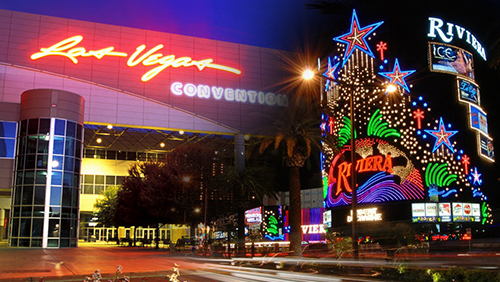 Liberace played the opening act in 1955. Frank Sinatra famously lived in one of its suites when he was a regular headline act in the 1990s. For all of Las Vegas' iconic casinos, none stood taller than the Riviera Hotel & Casino. At least, that was the sentiment.
Despite its iconic status in Las Vegas, the Riviera is not immune to the changing times and if the board of directors for the Las Vegas Convention and Visitors Authority (LVCVA) decide to buy the casino, the Riviera could very well be on its last legs.
According to multiple reports, the LVCVA is in the final stages on deciding whether to buy the casino for the specific purpose of destroying it to make way for its $2.3 billion expansion plan for the Las Vegas Convention Center. Should the board green light the sale, it is expected to allocate $182.5 million to purchase the property from current owner the Riviera Holdings Corporation. The LVCVA would also spend an additional $8.5 million to raze the property to the ground to make way for its expanded convention center.
The Riviera currently sits on a 26-acre property, so the LVCVA will have plenty of space to follow through on building a host of amenities, including 750,000 square feet of exhibition space. Before any of the newer and more modern operators began building their casinos in Las Vegas, the Riviera stood as one of the best in the city. It was considered the first high-rise casino on the Strip, boasting around 2,000 hotel rooms and as much as 100,000 square feet of gambling space. It was the place to be in Las Vegas, earning a reputation as a playground for some of the world's biggest celebrities.
Now, all it has are memories. It has since been overshadowed – literally and figuratively – by more opulent resorts on the Strip and with it came an erosion in popularity among tourists.