Darryll Fish has won the first major title of his career, after defeating Diosdado Icawat, in heads-up action, to take the first prize of $173,189 in the World Series of Poker Circuit Main Event in West Palm Beach.
A fish has won the World Series of Poker Circuit (WSOPC) Main Event at West Palm Beach.
28-year old Darryll Fish overcame a final table that contained two four-time WSOPC gold ring winners, to win his first major title since he started racking up results eight years ago.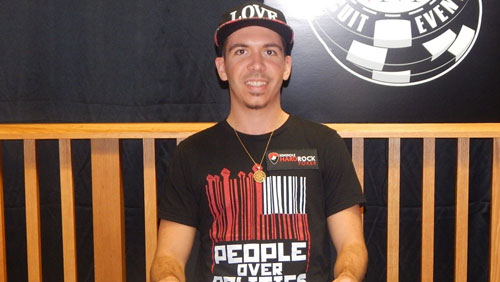 "I'm not in the game for the titles." Fish told the WSOP after his win. "I play for my love for the game and the ability to earn a living doing it is something that I'm really fortunate to be able to do."
The money also helps.
Without it, the grinding ceases.
Let's take a look at the green.
537 players ponied up the $1,675 buy-in. A prize pool of $805,500 was created. $173,189 went the way of Fish. It's a juicy sum. But he's had bigger pay days.
His biggest score to date was $235,350, when he finished sixth in the World Poker Tour (WPT) World Championships in Season IX. He has made two WPT final tables. In Season XI he finished third in the Lucky Hearts Poker Open.
He has 24 World Series of Poker (WSOP) cashes. The closest he came to gold was in 2013. He came third in a $5,000 No-Limit Hold'em (NLHE) event for $215,286. He has his gold now. It might not be a bracelet. It might only be a ring. But it's gold nonetheless. Fish will take it.
"I'm gonna keep grinding, keep doing what I love. Nothing much will change." Said Fish.
The field was brimming with talent: Joe Kuether (19th), Leo Wolpert (23rd), John Dolan (24th), Jason Mercier (30th), Barry Hutter (40th) and Jake Schindler (42nd) all failed to make the cut.
Two four-time gold ring winners didn't.
Maurice Hawkins and Sam Panzica both made the final table. Hawkins search for a fifth gold ring ended in seventh, whilst Panzica's ended in fourth. It's been an impressive series for Panzica, who picked up his fourth gold ring in Event #9.
One man who can trump Panzica's series performance is Marshall White. He earned the Casino Championship brand after cashing four times, making two final tables, and earning one gold ring. He will join Fish at the WSOP National Championships in Atlantic City.
WSOPC West Palm Beach Final Table Results
1st. Darryll Fish – $173,189
2nd. Diosdado Icawat – $107,075
3rd. Nancy Nguyen – $78,222
4th. Samuel Panzica – $57,988
5th. Daren Stabinski – $43,610
6th. Aaron Rosenthal – $33,267
7th. Maurice Hawkins – $25,736
8th. Hans Winzeler – $20,194
9th. Joseph Alesna – $12,960