Devilfish Poker is set for a return, according to investment opportunity website Funding Tree, and White Hat Gaming become the first online gambling company to join the NYX Poker network.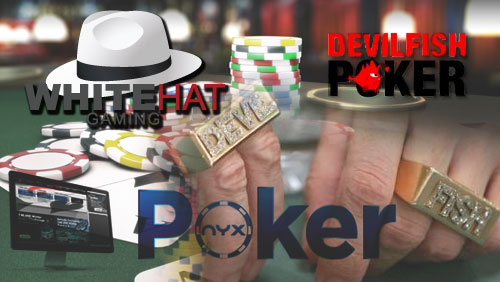 I guess it's wrong to say that Dave 'Devilfish' Ulliot is back. He hasn't really gone anywhere. But that's how it feels after reading on the investment opportunities website Funding Tree that Devilfish Poker is set for a return in the spring of 2015.
Devilfish Poker was incorporated in 2006, and at its peak (June 2010) its then owners filed revenues of £783,355 – £525,115 of which was gross profit. The company eventually hit hard times, and shut down, but it still retains a 10,000 registered player-base, and, of course, the advertising power of one the games most loveable rogues.
The job of breathing new life into Devilfish Poker has fallen into the hands of the experienced seed capital investor, Jeff Williams, and he is searching for £100,000 of start-up capital. At the time of writing he has raised £10,700.
According to the pitch on the Funding Tree website, Devilfish Poker has signed a deal that will see them appearing on the Ongame network. Since that network no longer exists (NYX Gaming bought it from Amaya and renamed it NYX Poker), then we can assume that's where Devilfish and the team will lay their hat.
The strategy is to reach out to customers in the UK and abroad, and they have struck up a partnership with Dave Hulme's Grassroots Poker. A provider of pub leagues throughout the UK. Sign up to Grassroots Poker and you sign up to Devilfish Poker.
And of course there is the Devilfish.
So much will depend on his presence, and high standards of vocal dexterity. If he can get back into the community, grab a few scores, and shake a few stars, then who knows, perhaps Devilfish Poker can start swimming with the sharks?
White Hat Gaming Joins the NYX Poker Network
Gaming solutions provider NYX Gaming Group have been busy of late. Not long after Santa had parked up his sled the outfit had added a mobile SitNGo (S&G) product to its online poker product, and it's now added their long-term partner, White Hat Gaming to their NYX Poker network.
NYX Poker is the network formerly known as Ongame. The Las Vegas based outfit purchased the network from Amaya Gaming Group for a price considered to be 'eight times Ongame's 2015 EBITDA, less any required working capital.'
Speaking at the time of the acquisition NYX Gaming Group CEO, Matt Davey, said: "Not only does this acquisition provide NYX Gaming Group with one of the best poker products in the industry, it also gives us access to products that are regulated in several jurisdictions, and more importantly a talent pool that can help grow all parts of our business."
That business has now grown courtesy of White Hat Gaming.
The pair have been in business for a while now, and White Hat's CEO, Max Wright, is said to be ecstatic to expand upon what he calls 'an already outstanding partnership.'
Licensed by the UK Gambling Commission, White Hat Gaming, are the first online entity to join the newly refurbished NYX Poker Network.