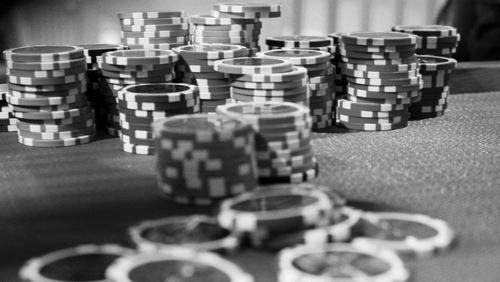 What is grassroots poker?
I ask that question because it seems to be the latest buzz-phrase in and around the poker community, along with that other commonly tongued phrase 'recreational poker player'.
It seems the poker community is started to wipe away the sleep and can now start to see the importance of remembering where it all began.
When the Football Association (FA) started wondering why the English National football team was getting it's arse spanked each time it entered an international competition, it understood that the problem lay at the grassroots of the game.
Poker has also recognized this important fact.
The biggest online poker islands in the world are all starting to make changes to their software that will appeal to the recreational player, and the live tournament organizers are also recognizing the need to provide value to those with slightly skinnier purses.
But what does this mean to those at the bottom rung of the ladder?
I think the poker community has a very tough challenge on their hands because I believe the world is changing. More and more people are learning fast that they do not have to follow the status quo, they do not have conform, and that they can actually have a dream and go for it.
Time is of the essence.
Spending it playing poker is not at the top of many people's lists. For those that want to make a shot at playing games for a living, the task has gotten even more difficult.
Coins and bills don't stretch, so how do you keep recreational players in the game when they are virtually guaranteed to lose more money than they will win?
It's time for the poker organizations to learn more about the grassroots demographic because I am not sure they really understand who we are or how we live, and everyone knows that in order for any company to be successful you really need to understand the color of your customers knickers.
Dave Hulme of Grassroots Poker is one man who has his finger on the grassroots poker pulse, as does Rob Yong over at Dusk till Dawn (DTD), and they are both trying their utmost to create a way for the working class men and women of the UK to inject some life into our game.
You see it's not just the marquee £5,000 or £10,000 events that are beyond the reach of the working class, but the £1,000 events are also stuck in the realm of impossibility for a lot of working class people.
So what about £500, £250 or £100 buy-in events?
The poker world has a view that these are the sorts of sums that working class people can afford, but this view is wrong.
I am a member of the poker community that comes from a working class background. I earn around £50,000 – £55,000 per annum writing about poker. I have a wife, a son and pay bills for all the mod cons that most men in their late thirties have responsibility for.
So can I afford to play in a £100, £250 or £500 buy-in event?
Unfortunately, the answer is no.
So what about cash games?
Well in the local casinos of the UK the lowest game I have ever seen is £1/1 and I generally sit down with a £100 or £200 stack. In my local game we used to play £1/1 Dealers Choice (DC) and I would walk out of that pub, up or down on average, around £500-£1,000 per night.
When you consider that on a salary of £50,000 – £55,000 you take home around £2,500 per month; to lose nearly a third of that playing poker in a single night when you have responsibilities to take care of doesn't bode well for a successful future.
There is no real future.
But what if you are good at poker?
Well the problem lies with the role that luck gets to play in our beautiful game. I don't care how good you are if you don't get the luck in those first few sessions and then separate that bankroll from your everyday expenses then you are doomed.
God knows how many top quality poker players make do with watching re-runs of High Stakes Poker because they just don't have enough money to play, and lest we not forget the thousands who go into unimaginable debt trying to out run it.
Grassroots poker to me is taking £10 – £20 out of your pocket for a game of poker, and creating a structure where this type of player can use this deposit to find their way to the biggest games in the business.
Now I'm not here to work this all out. I don't have the time or the word count. But I can tell you that if I had the opportunity to invest £10 to win a seat at the $10,000 World Series of Poker (WSOP) Main Event and had to wade through thousands of people to get to that seat – then I am not sitting in that game.
Grassroots poker has to appeal to players who only want to play grassroots poker, or if you want to create a stairway to heaven, go easy on the grease.
What I like about Dave Hulme and Rob Yong is they are focusing on the live players – the good old-fashioned bread and butter of our game. Hulme, for example, has joined forces with Living it Loving it to hold a £55 buy-in tournament on Sunday 16th March at the Grosvenor Casino in Didsbury with a guaranteed World Poker Tour (WPT) National Series Marbella package for every £1k taken in prize money.
If the prize pool doesn't reach £1,000 then seats will be handed out for Grosvenor 25/25 events; but Living it Loving it have guaranteed at least one package for this event.
What I love about Hulme is he realizes that £55 is too much money for grassroots players and has set up a series of £5 online qualifiers on 888poker, and these satellites start from the 2nd March and will run until the 9th March.
Much of the success of the recent Sky Poker UK Poker Championships Main Event falls at the feet of Rob Yong, and when you consider that Allan Graham took home £12,500 after qualifying for £2.80 and Deborah O'Connell took home £16,000 after qualifying for £1; all that is left for me to say is.
"That's what I am talking about."
So what is grassroots poker?
To me it's all about working class men and women who are using poker as a form of entertainment; when the shops are shut, the floors are mopped and the kids are put to bed the game begins. The money at stake doesn't bother anybody because everyone can afford it win, lose or chop – and there is a dream.
A dream that one-day a £1 buy-in can turn into a big score; a dream that feels that it's within reach. A dream that makes people sleep easy at night, instead of the stress of wondering how on earth you are going to have to explain to the missus that you have just blown another $215 trying to win the Sunday Million.
Because…love…I will win it one day…I promise.