A SWAT team has raided a well-known poker game in Great Falls, Virginia, making eight arrests, and seizing $150,000 in the process.
Attorney General Eric Holder's decision to change the controversial 'Equitable Sharing' Civil Forfeiture law is going to have one of its first high profile tests after a SWAT team from the Fairfax County Police Department burst into a poker game in Great Falls and allegedly seized over $150,000 from the players, and host, of the game.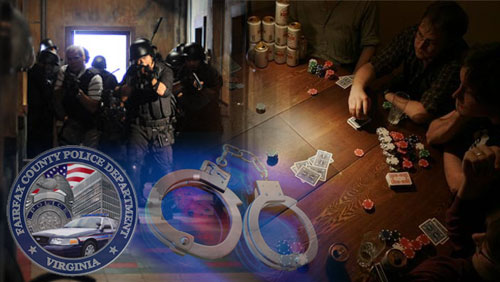 The reason a Civil Forfeiture case may well result, is those initially charged have been told that if they stay clean for six months, the gambling charges will be dropped. The money, however, will not be returning to the owners. A stipulation of the deal is that 40% of the money will remain with the police department.
Reports suggest that the game is not exactly a secret. The Washington Post suggested that Phil Laak and Antonio Esfandiari have played in the game that allows a minimum buy-in of $20,000, and rebuys when the first $20,000 has bitten the dust.
The alleged crime (as a UK citizen I find this laughable) is a Class 3 misdemeanor of illegal gambling. The word 'illegal' stands up here because there was a 1.5% rake to pay for dealers and assistants such as waiters and massage therapists.
Only eight of the ten players were arrested after ski mask, rifle-toting policeman raided the room shouting, "Does anyone have a weapon?" And asking for people to lay their hands down on the table. The rumors that someone had to lay down a Royal Flush have not yet been clarified, and thank God a ski mask wearing Phil Laak wasn't actually playing or all hell would have broken loose.
The reason only eight players were arrested is because one lucky bleeder was waiting for a seat, whilst another 'new' player to the game is believed to be an 'informant'. The Washington Post reports that this individual was interviewed separately and later not charged.
"It was clear to the poker vets that 'he didn't know what he was doing,' while playing Omaha – a nine-card version of Hold'em poker.' Wrote The Washington Post. It seems the informant wasn't the only person with a fundamental lack of poker knowledge.
The players were facing fines of up to $500 each, but it seems they are all likely to take the deal on offer. If not, one would expect the usual skill v chance debate to be rolled out in court in an attempt to get the Judge to believe that a group of adult's playing cards in someone's basement is not exactly something to worry about.
Another laughable twist in this tale is the assertion from the police that they were actually helping the game out; because these types of games are susceptible to being robbed by Asian gangs. It's a good job the cops robbed them first then.
"They could have sent a retired detective with a clipboard and gotten the same result." An unidentified player told the Post.
I'm not so sure.
Unassuming detectives with clipboards in their hands can cause a bit of damage.

Comments