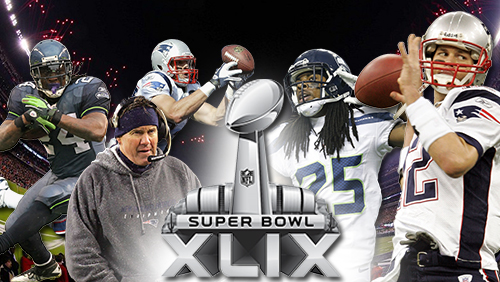 I've already established that betting on prop bets at the Super Bowl is pretty fun. But every year, it seems that the same type of props are being offered. Some involve the national anthem and the halftime show. Others involve the color of the Gatorade, the coin toss, and the first scoring play of the game.
All these props are cool, but they've been offered so many times that they've lost a little bit of originality. That's where I come into the picture.
In the second part of my prop series on Super Bowl XLIX, I'm taking a short detour and present a handful of props that I want to see get offered, even though sportsbooks are unlikely to take that course of action, for one reason or another.
Who knows, maybe a sportsbook gets to read this and decides to offer them. Just give a hat tip if you do.
If Richard Sherman wins Super Bowl MVP, will he ignore Commissioner Roger Goodell and instead shake the hand of and/or talk to Cardboard Cut-Out Roger Goodell?
Given the manner by which Sherman and Doug Baldwin mocked the NFL a few months ago with that pre-meditated press conference, this one could get interesting if Sherman somehow wins Super Bowl MVP and has to stand on the podium next to Goodell for the trophy presentation. Normally, a handshake between the MVP and the Commish happens in these moments, but wouldn't be the ultimate slap in the face of Goodell if Sherman refuses to shake his hand and/or talk to him, instead bringing out a cardboard cut-out of Goodell and then shaking the hand of said cardboard and talking to him…or it.
If that happens, forget about the game itself. That would be what everyone will be talking about for years to come.
How I'd make the line:
Yes: 1,000/1
No: 1/1,000
How many F-Bombs will Tom Brady throw that will be caught on camera?
Tom Brady isn't particularly known for being a gentleman on the field. He curses with the best of 'em, only his foul mouth is caught in the camera far more often than other players would because he's the quarterback and, well, he's Tom Brady.
Don't be surprised if the camera captures a few F-Bombs in the process. He's been known to spew it at any point in the game so wouldn't it be fun to focus some of your Super Bowl watching experience on trying to catch how many of Tom Terrific's vulgar yells gets caught by the camera
How I'd make the line:
Over/Under Total: 2.5
Over: 11/10
Under: 4/6
How many words will Marshawn Lynch say during his post-game interview?
It's a well-known fact that getting Marshawn Lynch to talk in interviews is an accomplishment that's on the level of the first moon landing. He's been fined for his rather muted interviews in the past and it wouldn't be surprising at all if he continues that trend when it comes to his post-game interview. If the Seahawks win, then we might get a few insights out of Beast Mode.
But if the Seahawks lose? A scenario wherein Lynch just stares blankly at reporters while popping one Skittle after another is in play, hence the awesomeness of this prop bet.
How I'd make the line:
Over/Under Total: 44.5 words
Over: 4/6
Under: 3/1
How many times will the announcers say that the New England Patriots' head coach before Bill Belichick was in fact Pete Carroll?
This would make for an excellent trivia question at some point in the game so it could get at least one mention. But the question is on whether it would get multiple nods, especially since Al Michaels will be calling the game. He's known to be friends with Pats owner Robert Kraft so he could throw a few references on how Carroll's first NFL coaching job didn't go as well as his second one.
How I'd make the line:
Over/Under Total: 2.5
Over: 11/10
Under: 11/10
Will a Seattle Seahawks defender get to "smell what Rob Gronkowski is cooking?"
This prop bet is a reference to poor Baltimore Ravens defensive back Rashaan Melvin who was the unwitting victim of getting up-and-close and personal with Rob Gronkowski's ass crack. If it wasn't bad enough that the Patriots singled him out in their passing attack during the AFC Divisional Round – Tom Brady went 15-for-19 against Melvin for 224 yards and two TDs, as per Pro Football Focus – Melvin will forever be remembered as the player who got a face full of Gronk's ass while trying to tackle the massive tight end.
The only way Melvin gets a reprieve from this if it happens again at the Super Bowl against the Seahawks. For his sake, here's to hoping it does.
How I'd make the line:
Yes: 2/1
No: 1/3