Cubits, one of the latest additions to the world of Bitcoin marketplaces, is dedicated to bringing a blend of speed, simplicity and security to the buying, transferring, and shopping with Bitcoin.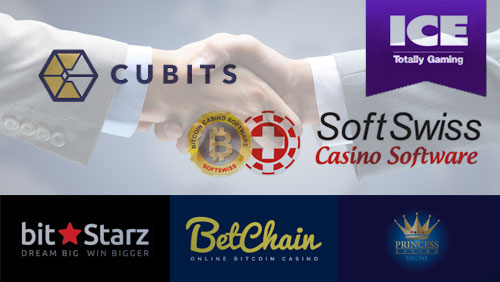 One of the very few Bitcoin firms based out of Europe, designed and built with German engineering and fully supporting 17 currencies, Cubits is making its mark with the Cubits Wallet for everyday users and Cubits Pay for merchants.
Cubits is proud of recently agreed partnerships in the online gaming industry. Cubits will co-sponsor Europe's biggest gaming exhibition this year, ICE Totally Gaming, where CEO Tim Rehder will share both insight and experiences in light of the firm's recent achievements in the gaming industry. Furthermore, together with SoftSwiss CEO Ivan Montik, he will elaborate on their integration process and explain the ease of integrating Bitcoin into existing gaming platforms and operators. "With Cubits, we have found a strong partner for fiat-bitcoin payments, connected not only by language, but also a common ideology of bringing customers the highest degree of quality and innovation." – Ivan Montik.
SoftSwiss is one of the largest online B2B casino companies, with over 14 online casinos to their credit. Cubits will begin handling the Bitcoin payments for BitStarz, one of SoftSwiss's biggest and most successful online casinos, BetChain, a hugely popular Bitcoin casino, and finally, their newest addition, Princess Star. When it comes to choosing our partners, Cubits places an extremely high level of attention to KYC policies. Cubits knows all of its partners adhere to the highest standards in legality, security, and fair business practices. BitStarz, BetChain and Princess Star, as iterations of SoftSwiss, are all fully licensed.
For these online casinos, Cubits has added 2-Way deposit functionality. This helps customers simplify the way they deposit Bitcoin into their accounts, regardless of whether they have a Bitcoin wallet or not. Cubits handles the deposit of regular currency, instantly buys Bitcoin on behalf of the customer and transfers the Bitcoin amount to their gaming account. This streamlined system helps online casinos move quicker into the Bitcoin arena while at the same time slowly integrating everyday players into using Bitcoin, but without pushing it on them.
"This system is a valuable tool for online casinos and online merchants alike, because it creates a seamless checkout process when making deposits and payments. We are very excited to launch this service with SoftSwiss", says Tim Rehder. One of the most exciting features of this payment functionality is the ability for customers to sign up with Cubits and acquire Bitcoin instantly, all the while maintaining their merchant's purchase window live and intact. In a few easy steps, not only has a customer made a satisfactory purchase, but is now also a Bitcoin user through Cubits wallet.
When making online purchases, going through numerous extra steps like navigating away from the merchant's page can often cause a timeout, which could lead to lost business. Cubits new integrated payment functionality not only avoids these potential losses, but helps grow the Bitcoin-using community, therefore generating more business for Bitcoin-accepting merchants.
Bitcoin emerged from an exciting yet not-widely understood origin, matured through some volatile stages, and is today becoming an innovative yet reliable system to bring people and businesses together in ways previously unimaginable. Cubits, with its exciting new partnerships, its seamless Payment and Wallet modules, and its integrated payment and 2-Way deposit functionality, is set to help lead the way into the exciting future of eCommerce and globalized business community building.