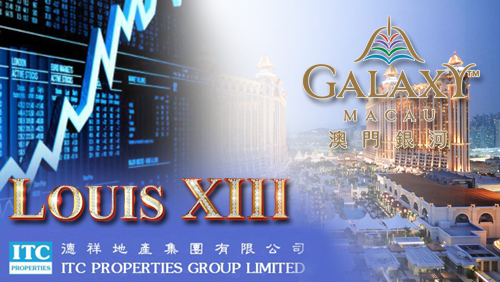 Hong Kong-listed casino developer Louis XIII Holdings Ltd has completed an extra upsize option on a share placement for its new VIP-focused Macau casino project. In a filing with the Hong Kong Stock Exchange, the company was able to raise gross proceeds of HKD531.1 million ($68.5 million) from the upsize exercise.
More importantly, it was also able to raise an aggregate of around HKD2.17 billion ($217 million) since December 19, 2014. That total includes HKD1.56 billion ($201 million) under a share placing exercise and another HKD609 million ($78.5 million) from a handful of upsizing procedures organized by CLSA Ltd, Louis XIII's placing agent in Hong Kong.
Hong Kong's ITC Properties Group Ltd. also announced that it had increased its stake in Louis XIII Holdings by another 6.3%. Under the terms of the deal, the ITC paid HKD95.12 million ($12.27 million) for a total of 28.2954 million shares, the equivalent to an average price of $3.363 per acquired share at a discount of around 1.09%. With the acquisition of new shares, ITC Properties now holds 16.9% of the share capital, and according to its filing at the Hong Kong Stock Exchange, there's a chance that it might increase its stake further in the future.
NO SUSPENSION AFTER GALAXY MACAU PHASE 3 FIRE
Meanwhile, Macau officials opted not to order any suspension on the construction of the 36-storey building that caught fire last week at Galaxy Macau Phase 2 . A spokesperson from the Land, Public Works and Transport Bureau told GGRAsia that that a team of technicians had already conducted an investigation of the site and that no further action will be imposed on Galaxy Entertainment.
"The bureau will not order the suspension of construction works because the fire only damaged the outside façade, not having affected the structural safety of the building," the spokesperson added.
An investigation by the Fire Services Bureau revealed that the fire started when a construction worker forgot to turn off welding equipment, thus "setting alight construction materials on the roof of the building."
With Galaxy Macau skirting the suspension of construction, the Phase 2 development of the property is still on schedule to open in the middle of 2015.