Lee Davy sits down with the Global Poker Index number one ranked Spanish player, Adrian Mateos, to talk about his decision to move to London; his experience sharing a home with so many great Spanish players, and much more.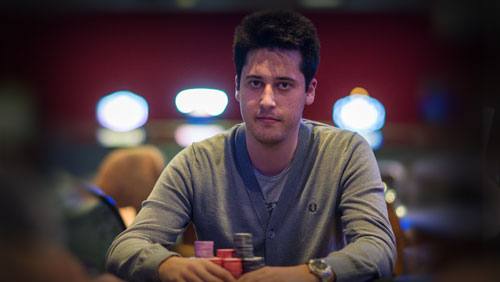 Adrian Mateos cuts a formidable figure at the poker table. Quite incredible when you consider he is 20-years old. The Spaniard started playing when he was sweet sixteen, moved to London when he was 18, and in those two incredible years he has earned over $2m in live tournament earnings, including a World Series of Poker Europe (WSOPE) Main Event victory.
Is it any wonder the cool kids of poker never finish school?
He came into the World Poker Tour (WPT) UK Main Event in fine form. The European Poker Tour (EPT) London Festival was kind to him. An 18th place finish in the £10,000 High Roller, and a second place finish in a £5,000 side event, netting him over $100,000.
Mateos would lead the WPT UK field all the way to Day 3 when it eventually passed to Antoine Saout. He would finish 11th for a $22,560 score, and then also make the final table of the Grosvenor United Kingdom Poker Tour (GUKPT) in London, where he finished eighth for £11,400.
WPT UK Main Event runner-up, Ben Warrington, called Mateos 'a beast'. Few would argue. I sat down with the Spanish number one to try and figure out where it all went so very right?
How did your life change after your WSOPE victory?
"I didn't change too much because when I won I was already playing professionally. After my win I could play bigger tournaments, including High Rollers. That made me happy because that's the level I want to play at. I want to play with the best players in the world. I also took some great holidays with friends, but overall not much changed for me."
You share a house in London with some of the finest Spanish poker players. I have heard you all have a very good work ethic. Talk about this.
"I started playing poker when I was 16-years old. In the beginning I studied on my own. I loved the game, and read as much as I could. Then I moved to London with some other great players and things were different. My study involved talking with other people about hands. When you play in the High Rollers you meet so many great players, so it's very good to talk about hands with them. You also have to work hard on your own. I also play online. It's the best way to improve. You have trackers, and these help you study your game in more detail."
How difficult was it for you to move to London at just 18-years of age?
"It was a hard decision for me. I had good grades at school. I was studying economics when I won the Estrellas Main Event in Madrid. I also played live cash games and made enough money to move to London. It made my dreams come true. I was thinking about the decision for three-four months. It was tough. I was 18-years old and lived with my parents. Moving to a foreign country, with strange people, was very daunting. In the end I decided it was something I wanted to do – so I went for it."
Do you miss home?
"If I live in Spain I cannot be a professional poker player like I am here in London. The taxes are too big. So if I want to be a pro, and play higher, I have to live in the UK. I prefer London because I used to live in Madrid, so I am used to the big city."
What are you doing right that so many people are doing wrong?
"I feel really comfortable at the table. I never feel any pressure. I used to play tennis at a high level. This makes me feel very comfortable at the table."
Any life weaknesses?
"I feel really good with myself. I do whatever I want; I am really happy. If I have any life weaknesses I don't know what they are."