Poker Night is a horror-suspense flick from the quill of Greg Francis that is released in December. The cast looks good, the plot half decent, and I think it would be worth a watch.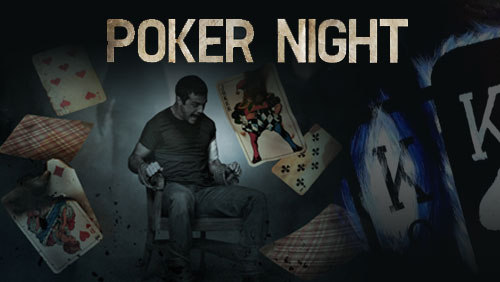 The last time I wrote an article about an impending poker movie I was called an 'ignorant douchebag, and rock-solid jerk for condemning a film before it is even released.'
That movie was Gutshot Straight starring Steven Seagal, Vinnie Jones, and Tia Carrere, and it is currently carrying a 4/10 rating on IMDB, so who knows, perhaps I am capable of predicting the success of a movie based on a basic understanding of the plot, a quick glance at the cast, and a two minute YouTube video?
So let's try it again shall we.
Poker Night is currently carrying a 8/10 rating on IMDB. It has a top notch cast, the plot tries to be different, and the trailer has you by the balls.
In what must be a first for poker movies, writer/director, Greg Francis, has taken the creepy horror-suspense genre, and added a touch of poker to the mix; it seems to have worked.
The movie focuses on a young detective called Jeter (played by Beau Mirchoff), and his girlfriend Amy (played by Halston Sage), who are both kidnapped and mentally/physically tortured by a sadistic serial killer wearing one of those freaky masks that gives you nightmares.
In order for Jeter to save himself, the girl, and therefore tick all of the movie hero boxes, he has to use all of the experience and savvy that he has picked up from the weekly poker game he has been taking a seat in with his colleagues.
"We win a hand, we tell you a story " –  is the premise of the movie.
I think this might be worth a watch. A don't suggest you go running to the local iMax to pay £15 to watch it, but it's worth a punt on Netflix. It's released in December, but I expect you will be able to download it somewhere not long after that.
I would watch it, if only to see Ron Perlman (Sons of Anarchy and Hellboy), and Giancarlo Esposito (the mental chicken guy from Breaking Bad), in action and I suggest you do to.
Take a look at the trailer and make up your own mind.

Comments