This week in poker sees Olivier Busquet and Allen Kessler light up twitter with two individual and interesting issues; Michael Phelps girlfriend decides to tell the tabloids that she was born a man; and WPT victories for Dylan Wilkerson, Eleanor Gudger, and Chris Moorman (sort of).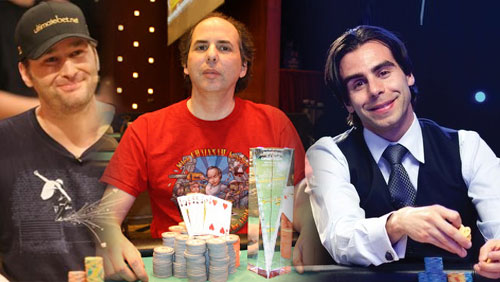 A fortnight ago, the name of Phil Hellmuth popped up in this column after the 13-time World Series of Poker (WSOP) bracelet winner was on the receiving end of a verbal attack from Dan Colman.
This week Hellmuth once again makes an appearance, only this time for the right reasons. The man so many professionals think hasn't got a clue when it comes to playing tournament poker has won another poker tournament.
Hellmuth defeated David "ODB" Baker, in heads up action, to top a 254-player field in the $1,000 buy-in Pittsburgh Open Main Event for $54,414. Matt Glantz also appeared at the final table finishing in fourth place.
Apart from being called a 'whore' it was a decent week for Hellmuth. He also won a 2015 Corvette Stingray playing at Daniel Negreanu's charity event in aid of St. Jude Children's Research Hospital.
Olivier Busquet Lights Up Twitter
It was a pretty quiet week on the Dan Colman front, but his buddy Olivier Busquet stepped up to create a little bit of controversy of his own.
"It genuinely shocks me that people are so convinced by the myth that certain people's personalities played an important role in the growth of poker."
"Not saying general dynamic of having "stars" didn't contribute, saying it wasn't big & the individuals were place holders easily replaceable." Tweeted Busquet.
It kicked off an interested debate over how much influence player personalities had over the growth of poker, whether or not they were just in the right place at the right time, or whether or not it was the great work of TV production companies who made mediocre people seem interesting.
'The idea that current pros 'owe' some past group of pros for paving the way or growing the game is just nonsense.'
'If anyone should be thankful it's pros who were at the right place at the right unique time & made money w/out having to be good at poker.' Tweeted Busquet
Not everyone agreed with Busquet's point of view.
"Olivier was the biggest whiney c**t in online poker now he thinks he's the Dalai Lama. Go fuck yourself nerd." Tweeted Lush.
Quite how poker could grow to where it was today without a past is beyond me, but everyone is entitled to his or her own opinion, and Busquet has earned his.
Michael Phelps Girlfriend is Intersex
Another controversial poker story centered on Michael Phelps.
The poker player, who is also spotted in the swimming pool from time to time, hit the headlines after his 'self-proclaimed' girlfriend came clean that she was born intersex.
41-year old Taylor Lianne Chandler was actually born David Roy Finch. Chandler was born with both male and female genitalia, and in her early twenties underwent surgery to remove her dangly bits.
"Chandler is now concerned that after this admission Phelps may no longer want to be with her when he leaves rehab.' States the Daily Mail.
No shit Sherlock.
I would expect an admission of having an outy and an inny would be done in private and not blurted out over the tabloids.
Phelps is currently serving a six-month suspension from swimming as a result of a DUI incurred at the back of Sep.
Chandler alleges the pair met on through the dating app Tinder.
Allen Kessler and the Playground Poker Club in Montreal Aint Buddies
Phelps love of poker came to light when he made a surprise appearance on the rail of the WPT Montreal in Season XI. The greatest Olympian of all time was on in attendance to cheer on his great friend Jeff Gross who eventually finished third.
That tournament was held at the Playground Poker Club, widely recognized by the professional poker playing establishment as one of the greatest venues in the world; not an opinion shared by Allen 'Chainsaw' Kessler'.
"Anyone considering playing @PlaygroundPoker @WPT main; the std fee is $3200+300. Playground is charging $3395+455 and pockets the extra $155." Tweeted Kessler.
Would he get a reply?
You betcha.
"@AllenKessler @WPT Our fees are 10% from $100 up to $4k, plus the std 3% for tips. If you don't like that, please don't play here." Came the reply from the official Playground Poker Twitter account.
Cue a millions retweets and outrage from a zillion players saying that the club was out of order for replying to Kessler in that way.
I guess you can't really win.
Organizations are criticized for their lack of authenticity, and when they show it, they get criticized even more. Oh well…back to bog standard corporate responses I guess.
Of course the twitter control of the Playground Poker Club is managed by one poor sap who has no doubt had his or her wrists slapped as a result of this outrage. The club issued an apology to Kessler which confirmed as much.
Kessler didn't turn up for the event, but 732 players did.
Read into that what you will.
More World Poker Tour News
Sticking with the World Poker Tour theme, and the busiest tour on the planet ran two concurrent events last week.
Dylan Wilkerson finally shed that bridesmaid dress and donned the brides (err that doesn't read right) when he defeated the local lad Richard Barnard to capture the WPT title at the WPT Emperors Palace Classic in Johannesburg.
Wilkerson's victory came after two 2014 runner-up finishes at the Bay 101 and Niagara Falls events.
On the other side of the world PKR sponsored pro, Eleanor Gudger, was defeating Matthew Noonan to take the first prize of $222,177 at the WPT500 event in Dusk till Dawn (DTD) Nottingham.
Gudger topped an impressive field of 2,133 entrants, once again proving that, in the short term at least, the WPT500 format is one the punters like.
Finally, in a classic case of money goes to money. The WPT rolled out a special Royal Flush promotion in connection with their partners Royal Caribbean.
Players had to win a hand with a Royal Flush (holding two of the cards in their hand) in order to win a cruise for two onboard Royal Caribbean's Oasis of the Seas, and a free seat in their Royal Poker Tournament with an estimated $100,000 prize pool.
Who would win it?
A man who has a £25,000 a year job and had popped into the club for his once in a lifetime shot at glory?
The man with over $15m in winnings, managed to get a 2-minute breather from signing all of his books, to flop the diamond Royal Flush in a hand against the Russian Victor Ilyukhin Jr.
"I didn't even get paid." Said Moorman after explaining how Ilyukhin folded to his flop c-bet.
Comments