Former Oakland Athletics slugger, Jose Canseco, blows his finger off whilst cleaning his gun, has it surgically re-attached, only to see it fall off during a poker game.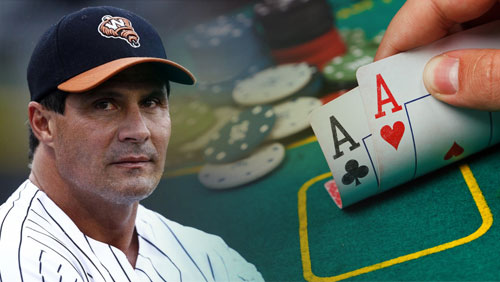 "What's green, slimy and smells like Miss Piggy?"
That dominated the "finger joke" department for many years but it seems the former Oakland Athletics slugger, Jose Canseco, has taken over the market.
The man who won the 1989 World Series, with the Oakland Athletics, has sent a series of tweets into the Twitterverse telling all and sundry that his finger fell off during a game of poker.
How the hell can that happen?
Is this man a leper?
In yet another reason why Americans shouldn't be allowed to own handguns, Canseco, recently shot himself in the finger whilst cleaning his semi-automatic weapon at his Las Vegas home.
We have all heard about people shooting themselves in the foot…but the hand?
He was immediately rushed to hospital, where his finger was surgically re-attached, and he was later sent home to recuperate. What better way to get back into the groove than to play a game of poker…right?
Canseco is used to seeing projectiles flying away from his body, after 450 home runs spanning a 17-year period but one assumes he has never seen his finger heading in that direction.
Well now he has…twice.
It seems that during a hand, Canseco's finger fell off and landed on the table. The whole incident was filmed by a participant in the game, but its  yet to emerge in the media. We are not sure if Canseco won the hand but we do know he didn't lose the finger. It was placed into his freezer until he could contact paramedics.
Ok well I might as well tell you .I was playing in a poker tournament last night and my finger fell off .someone took a video of it.

— Jose Canseco (@JoseCanseco) November 14, 2014
According to Canseco, his finger should have been amputated after he blew it off.
"It was very loose, with no bone to connect it. It was also smelling really bad."
Sounds like a steak from the Rio kitchen if you ask me.