Manuel "manub_" Bevand is the latest professional poker player to part ways with his online poker room, after the former World Series of Poker & European Poker Tour final tablist decided to leave the French online poker outfit Winamax.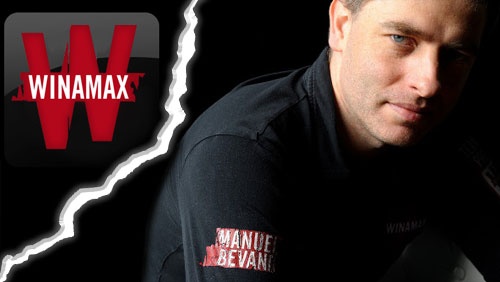 He might not be as maverick as Davidi Kitai and Ludovic Lacay; definitely not as soulful as Bruno Lopes and Patrick Bruel; and certainly not as good looking as Gaelle Baumann, but for as many years as I can remember, Manuel "manub_" Bevand has been a solid foundation in house Winamax.
This week that house becomes slightly weaker after Bevand made the decision to leave his post to purse 'other opportunities in his life,' and I caught up with him to try and figure out why?
Why have you and Winamax parted ways?
It was my decision. I simply evaluated my desire to invest one more year into live poker, compared to doing something else, and something else won. That being said, I have been very proud to represent Winamax for almost seven years.
What have been your fondest memories?
I have so many fond memories of my time with Team Winamax that it's hard to choose personal ones, so I'll mention the significant poker ones. I guess I'd pick Davidi Kitai's first bracelet in 2008, which was our first title as a team, and was properly celebrated; my one EPT final table in 2010 Prague because it was the accomplishment of so much work and patience: and my one WSOP final table because I got to play with the very best tournament players in the world and that is an honor in itself.
What were Winamax like to represent?
It was an honor and a privilege. I feel very grateful that I earned and maintained Winamax's trust for so long. I think that company represents what's best in poker: fun, innovation, community and the promotion of high-level competition through the pro team. I wish them nothing but the best.
What were your roles and responsibilities?
I was representing the brand and trying to promote poker in the safest and most honest way I could imagine, while conveying my passion for it. I did that through blog articles, technical videos, and participated in quite a few of the many promotions initiated by Winamax to promote poker.
The most popular by far is the seven-episode series "Dans la Tete d'Un Pro" ("Within The Pro's Mind") that we filmed at WPT Prague last year. I also spent a lot of time trying to come up with new ways to help my teammates in order to makes us all better players.
The French online poker industry has been criticized widely, what's your view?
I don't think it's the poker industry that deserves criticism, but the French lawmakers. Our government has unfortunately decided to kill the golden-egged goose by imposing a level of taxation on the industry as a whole that is just not sustainable in the long run. The situation is getting worse every year and something has to change.
The closure of the live card rooms in Paris has been a sad sight, what's your view?
I feel mostly concerned for the card room employees that suddenly woke up without a job. I have no idea if the closures had any good substantial reasons to them, but it also concerns me than anything related to poker could still be regarded by the authorities as potentially criminal and requiring the intervention of police forces.
It seems the WSOPE may not be returning to France in 2015, where would you like to see it held?
If it has to leave France, I would like to see the WSOPE to return to London.
WSOP, EPT or WPT?
EPT Prague is my favorite tournament for many reasons. The EPT is the best circuit, in my opinion – extremely well organized and professional in handling all types of crisis. I also love the WSOP for its unique atmosphere and the WPT has a great team, I wish that they succeed in rebuilding the WPT brand in Europe.
I notice that you compile so many stats on your iPad when you play live, what do you do with them all?
It was an attempt at creating a way to formally track live hands and have data on which to base future decisions. It was very useful to re-play tournaments with my teammates in our yearly training seminar. I tried to design an iPad app to assist players in that task and potentially create a product, but experience has taught me that poker players are not ready to use that kind of tool massively.
What's next for manub_?
Too soon to say, I have several opportunities that I'm considering. The one thing I know is that I will play my last tournament at EPT Prague and I hope to shake hands with many of my former opponents!