Continuing his confessions series, Lee Davy, gives some advice to the live tournament players who are desperate to get into the chip counts of the live reporting blog.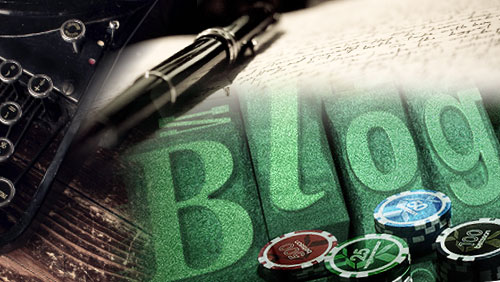 "Who put this guy into the chip counts?"
Thinking I had done something wrong I sheepishly owned up to the act.
"Well…it's your job to follow him now."
That's how I learned live reporting lesson #56: "Don't put any Tim, Danny, or Herbert into the chip counts."
Perhaps, this is why Danny Laming had reason to complain, during an interview in BLUFF Europe magazine, that PokerNews reporters made him look like he wasn't playing a hand, during his amazing run towards his first World Series of Poker (WSOP) final table in the summer.
The first time I met Danny was at the World Poker Tour (WPT) in Cyprus earlier this year. He shared a cab back to the hotel with me and Steve Watts. Nice fella, even though he passed on the most horrific gut bug to me.
As we got deep into the money I knew pretty much everyone in the field except this one kid wearing a baseball cap. This is always a tough moment for a live reporter. If you ask him his name then you look like a bit of a dick. You are in the money, and so he will expect that you know who he is. But it doesn't always work like that. Especially, when you are covering the tournament on your own.
This is where you rely on the media card. I peered over at the baseball cap's stack and took down the number, crossed checked it with my list, and realized it was Danny Laming. Either I was getting old, or he has a face that doesn't stick.
If a player is not familiar to me, I make them familiar by giving them a nickname. Often this nickname comes from a discernable feature that they have. Some people seem to have faces without any discernable features. I am blind to them. There is a running joke on the European Poker Tour (EPT) circuit that despite Kent Lundmark winning EPT Barcelona, a few years ago, people struggle to recognize him.
He has one of these featureless faces.
Lesson #1: Have a Discernable Feature
Short of taking 'my mate Stanley' to the side of your face, there isn't very much you can do about this one. One way of getting noticed, if you tend to look like everyone else, is to talk a lot of bollocks.
If you can wind a few people up, tell some jokes, or generally just act like a cock, then that's your discernable feature. By being loud, and obnoxious, you suddenly become something to write about. I notice you.
Back to Kent Lundmark, and this kid is like a mouse, but I will never forget him because he won the second EPT event that I worked at, and that's the second tip to players who want their art poured onto the live tournament blog.
Lesson #2: Win a Tournament That I Work At
The easiest way to get into a live tournament blog is to win something., because then you become something. But it's not enough to win just anything. You have to win a tournament that I am working at. I can reel off a dozen EPT champions that I will never be able to pick out in a crowd, because I don't work at these events.
This is the biggest problem when you start working at the World Series of Poker (WSOP), and I guess what was Danny Laming's issue earlier this year. It's extremely difficult for a European working at a WSOP because the field is largely made up of Americans, and there is no media card system.
I have lost count of the number of times I have asked a player for his name, and he has told me that he owns more gold bracelets than Mr. T. Apparently, being a mind reader is on the roles and responsibility statement.
I imagine that Laming was playing in a tournament that was being covered largely by Americans. Had it been an Englishman, covering the event, then Laming's chances of making the blog increase tenfold.
When a tournament begins, live reporters search through the throng, with the desperation of a parent trying to pick out their child as the kids come pouring out of the school gate.
The more people that the live tournament reporter knows, the easier the job flows. You don't have to stop in your tracks to ask the multiple bracelet winner what his name is, and you don't have to call him 'The Button' in your write up.
Lesson #3: Play Some Hands
The last two WPT events I have covered have been like chalk and cheese in terms of field sizes. The WPT Main Event in Cyprus had 404 entries, and the WPT Alpha8 in London had 17.
On the face of it you would say that it's easier to get your name in the blog if you play in the Alpha8. The field size is so much smaller, and the faces are going to be familiar. Although mathematically this is true, it doesn't always work out like that.
In two days of action, I doubt I wrote hardly anything about Erik Seidel. He is one of the most respected, and skilled, players in the history of the game, but he is also pretty quiet, and doesn't play as many hands as say Sam Trickett.
So even in a field of 17 entrants I might miss Seidel for the entire two days, only catching his exit.
So why is this?
In the early levels of action I grab my notepad and pen and head into the field. My intention is to capture two hands, and then head back to my computer to write them up. Ideally, I want action that gets to showdown. Importantly, I must know at least one of these players, or I have a great media recognition system so I don't have to ask players what their names are.
So in a field of over 400 people, the chances of your aces running into kings ending up on the blog are not great. They improve when there are fewer tables left, but I still need to be standing there at that exact time.
Also, when the field size diminishes and there are say two tables left; I don't care if you are playing hands with more creativity than Stu Ungar, my job at this moment is to capture all of the bust-outs.
Very often, during this time, when working alone, I hardly leave my desk. I have people feeding me bust-out after bust-out and that's my work for the day.
There are many reasons why you will find the same names in the blog, but I assure you the large percentage of them play a lot of hands.
Lesson #4 Talk to Me
There are times when I have walked around a field of a thousand players and not found a hand worthy of writing. At times like these I feel as if I have lost my erection during a not-so-wet dream with Angeline Jolie.
Live reporters are desperate for action. Not only does it massage your ego (you assume people will think you are great if you capture the most important hands), but it's also what the readers are after, and it creates the plot of your story.
If you have been involved in a big hand, then stop me, and tell me about it. Make sure your information is accurate. Don't go flimsy on me with inaccurate bet sizing, because it won't cut it. But if you stop me and tell me about a hand it will end up in the blog.
Now I know you.
You end up in the chip counts, and because I have to update your stack I am going to be watching you more, hence the chances of me catching you playing a hand increase.
Lesson #5 Be a Part of the Story
I have worked with a lot of different live reporters, and everyone works differently.
What I aim to do is to create a story of the tournament. It must have a beginning, a meaty middle, and then a spectacular ending. It also needs to contain a cast of great characters, and wonderful plotlines.
I learned this whilst covering $1k events on my own at the WSOP. I realized that writing individual hands, with a field size of 3k players was useless, so I started to write in story form. The Amazon, Brasilia and Pavilion were different acts, and they all contained their own wonderful characters.
If you are part of my story, then your livelihood will be shown on the blog.
So how do you become one of my characters?
Be famous.
I know it's elitist, but people want to know what happens to the progress of the rich and famous. Phil Hellmuth three-betting Phil Ivey, as mundane as it sounds, usually gets into the blog.
Have a unique selling proposition.
It could be anything.
You might be pissed up, and acting like a cock; have a bright red Mohican; be a serviceman; have an incurable disease; look drop dead gorgeous; dress spiffingly well; or have a weird and whacky way about you.
Grow chips.
There are some writers who will refuse to include large chip stacks of unknown players into the chip counts, early in a tournament, because they are hedging their bets that they will fade fast, but I don't share this view.
I find, more often than not, that someone building a big stack early on, may not necessarily win the thing, but they will become an integral part of the story. They are in my cast, and I will keep an eye on them, and I will write about them.
Then it all comes together.
If you have one of the biggest stacks in the room, the chances are you are playing quite loose, this then heightens the likelihood that you are more of a confident personality, meaning you may play more hands.
Chips also loosen up the tongue. Roberto Romanello calls them chirping chips. The more you have, the more likely you are to get involved in the banter, and the more likely I am to spot you in the crowd.
So next time you are in the field, and notice your name has not cropped up in the blog, grab me as I am passing and mention this article. I will write about you. I promise.