21-year-old Fedor Holz is the new champion of the online realm after defeating 2,142 entrants to take the $1.3m first prize in the World Championships of Online Poker (WCOOP) on PokerStars.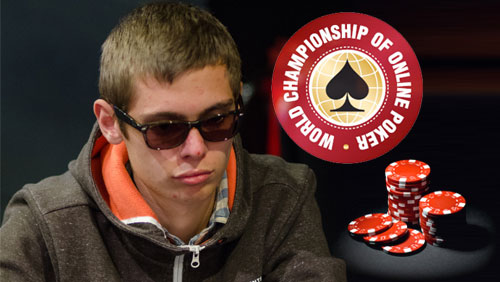 The first time I met Fedor Holz, I wanted to take him home and make him a Sunday roast. He was this skinny little thing, wearing over-sized sunglasses, beating up some of the best players in the game at the World Poker Tour (WPT) event in Baden.
That was 2013 and he was about to finish 10th in only his third-ever live tournament cash. His unmistakable cherubic features and aggressive playing style, searing a groove into my memory banks.
Nearly two years on from that meeting and Holz is the champion of the online poker world. He has beaten 2,142 entrants in the $5,200 WCOOP Main Event, on PokerStars, taking home a life-changing $1.3m after getting the best of a six-way chop.
And what a final table it was.
Fedor 'CrownUpGuy' Holz, ending up on top of a pile that included Yuri 'TheNERDguy' Martins, Elior 'Crazy Elior' Sion, Faraz 'The-Toilet 0' Jaka, Daniel '19Dan86' Rudd, Dylan 'Poker1)evil' Hortin, and Viktor 'Isildur1' Blom.
Six players would cut a deal once Dylan 'Pokerl)evil' Hortin was vanquished by Crazy Elior in seventh place. Crazy by name, crazy by nature, as Sion played the WCOOP Main Event on his iPad – sucker-punching Hortin when his pocket tens out flopped pocket queens to send the final six into a business meeting.
When they emerged from their pow-wow Holz took $1.1 million, Jaka $945K, Sion $780K, Rudd $770K, Martins $708K, and Neckbrake $651K. That left $200k, and the bragging rights for the winner, with Holz coolering Martins to win the lot after his quad tens beat the full house of his opponent.
The WCOOP series created a total prize pool of $62 million through 66 events. The 2,142 entrants in the main event made sure the $10 million guarantee was met with the total prize pool ringing in at $10,710,000.
"Believing in yourself and making the right decisions is the key to winning, in my opinion," Holz told the PokerStars blog after his victory.
Final Table Standings
1st. Fedor 'CrownUpGuy' Holz – $1,300,000*
2nd. Yuri 'TheNERDguy' Martins – $708,251.21*
3rd. Neckbrake – $651,430.61*
4th. Elior 'Crazy Elior' Sion – $780,227.61
5th. Faraz 'The-Toilet 0' Jaka – $945,000*
6th. Daniel '19Dan86' Rudd – $769,813.52*
7th. Dylan 'Pokerl)evil' Hortin – $214,200
8th. MaltLiquor40 – $160,650
9th. Viktor 'Isildur1' Blom – $107,100
WCOOP Leaderboard News
The WCOOP leaderboard winner was a UK based player known as 'Mr Negreanu'. He cashed 17 times, including two final tables, and now owns a PCA, EPT and TCOOP Main Event seat. 'Aggros Santos', 'Assad91', and 'WhatifGod' managed to win two titles each.
Russia have the bragging rights for most successful country after scooping nine events. The Canadians won eight, and the UK and Mexico shared six a piece. Canada won the most money with a smidgen over $9 million, and the UK secured a little over $7 million. Canada also had the most cashes with 1,964.