Malta has long enjoyed a sterling reputation as a safe, fun and unique Mediterranean tourist destination where history and modernity cross each other's path at every corner. At just over 316 km, the country boasts dozens of sightseeing options—including places of worships, museums, countryside trails, beaches and much more—all located just a short drive or bus ride away from one each other.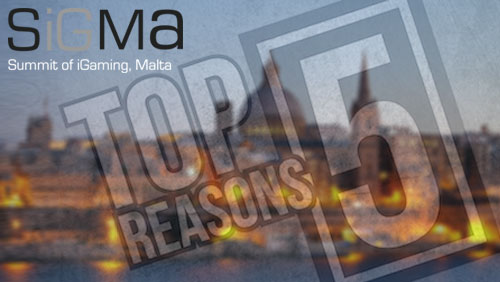 No wonder that feedback from participants of previous iterations of the SiGMA event about Malta has been so overwhelmingly positive. With over 2,000 delegates soon converging on the island for the Summit of iGaming in Malta, from the 30th of October until 2nd of November, we decided to count down the top five reasons why you should hurry up and register for SiGMA 2014 if you haven't done so already.
If you already booked your place, here's to whetting your appetite with what you can expect in just over a month's time.                          
#5 Concentration of unique learning opportunities
For four conference-packed days, Malta—thanks to the speakers invited for SiGMA 2014—will virtually become the epicentre of the global iGaming industry. Top players in their areas of expertise—mobile gaming, legislation updates, SEO, security—will be sharing the most cutting-edge knowledge that is currently shaping the future direction of the industry, putting you at the leading edge of the innovations that will be making the headlines in the coming months.
#4 Plenty of ways to unwind and connect with colleagues after a full day of talks
After a whole day talking shop what's better than unwinding at the spa in your hotel or hitting the clubs at Malta's main nightlife area, Paceville, which houses Malta's best bars and nightclubs. There are many ways you can relax and take in all the new information you learnt during day while networking with other participants, and you can experience them all during your stay since everything is literally a stone's throw away from your hotel.
#3 Top-notch accommodations in the heart of Malta's entertainment and leisure hub
Talking about your hotel, participants at SiGMA 2014 have the option to stay at two of the top hotels in the St Julian's areas, located directly opposite each other. The InterContinental Hotel is a five-star luxury hotel and resort that boasts splendid waterside vistas, a private beach and a wide choice of water sports to make your stay even more memorable.
Alternatively, Baystreet Hotel is a four-star property adjoining its own shopping complex which houses a large number of shops, a family entertainment centre, a bowling alley and a range of restaurants and cafés.
#2 A place where you won't get lost, but you might just find yourself
Malta is considered one of the safest, most tourist-friendly destinations in the world, with a traditional of warm hospitality that dates backs over a thousand years. You can easily visit all of Malta's most famous monuments and attractions by renting a car or using the public transport system. The chances of getting lost on our small island are minimal, but you might just find a way that connects you to the more serene and relaxed lifestyle that island life instils in visitors.                      
#1 Bask in the glow of iGaming luminaries
We might be repeating ourselves here, but only because it is worth doing so. By attending SiGMA 2014 you will rub shoulders with some of the world's foremost movers and shakers of the iGaming industry and have the opportunity to learn about the latest trends and developments, as well as ask questions to our distinguished speakers and network with colleagues from all around the world.
About Sigma
Over the past five editions, SiGMA has earned the distinction of being one of the annual must-attend iGaming event which professionals working in the industry look forward to the most in order to tap into the most up-to-the-minute knowledge in the business.
This unprecedented edition of the Summit of iGaming in Malta promises to be the biggest edition yet, with over 1000 delegates, 70 exhibitors in our dedicated expo space and over 60 speakers who will be stepping onto the SiGMA stage between October 30th and November 2nd. You can register now and if you qualify as an affiliate, you can attend SiGMA 2014 for free.