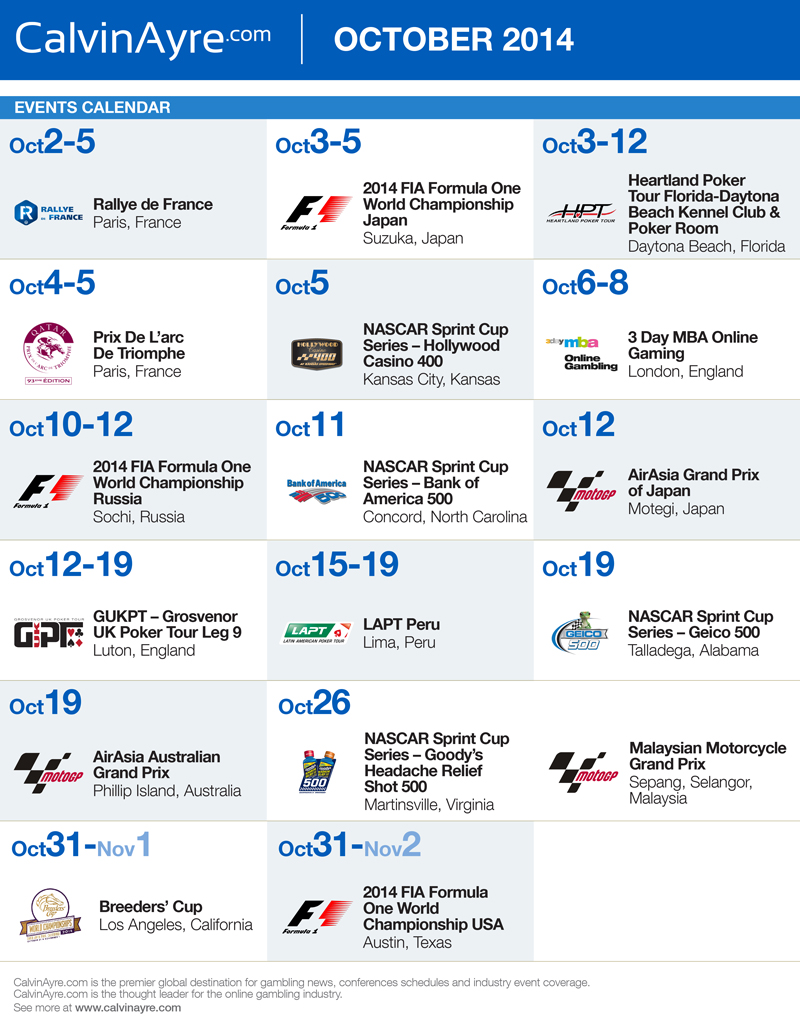 Global Gaming Expo- G2E
As mentioned in September's featured events post, the largest gambling industry conference and expo of the year is G2E, now in its fourteenth year and counting.  Big name speakers such as Sheldon Adelson and Steve Wynn are on this year's roster and the expo floor promises to be the biggest its been in five years.
Mike Johnson, Industry Vice President, Reed Exhibitions shared,
"We're excited to debut a number of new features at this year's G2E—all as a result of customer feedback— including a completely revamped seminar program featuring more general sessions, the industry's biggest names as speakers, and more cost effective pricing options.
Our show floor is expanding with the industry's core gaming suppliers showcasing their latest products and solutions, as well as the introduction of more non-gaming content now located in the Venetian ballroom and anchored by our new Hotel Show at G2E produced with our friends at the Nevada Hotel & Lodging Association"
What: G2E
When: September 30-October 2, 2014
Where: Las Vegas, Nevada
Hashers United Conference- Where Miners Meet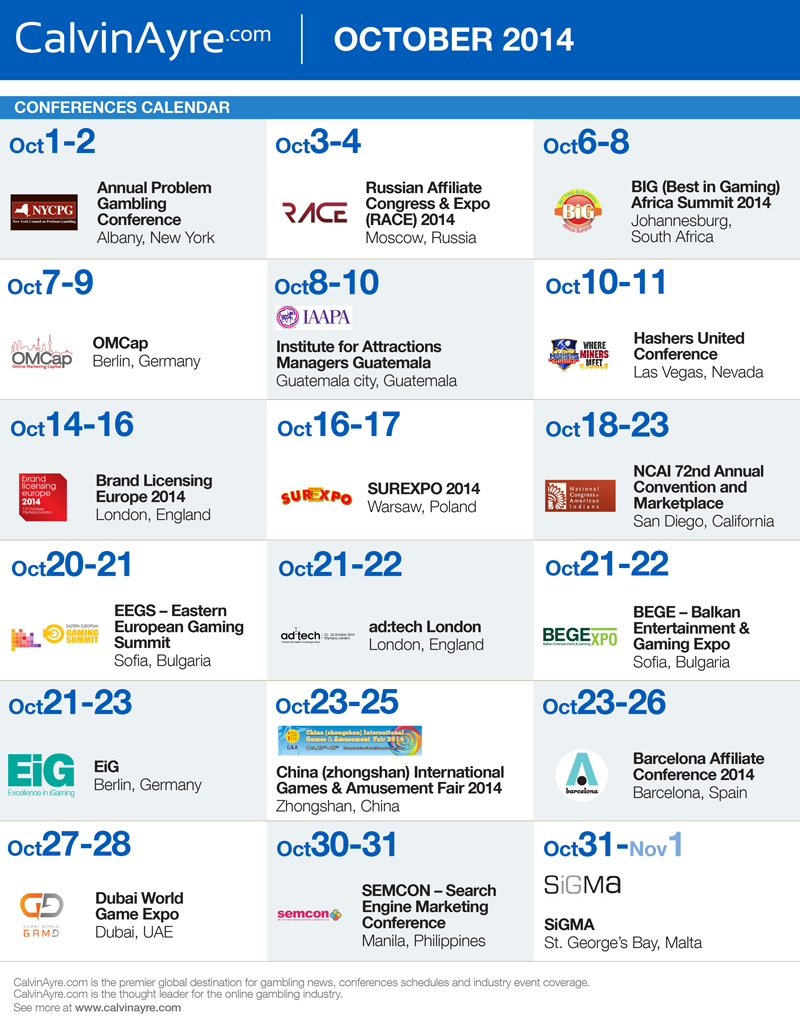 Calling all cryptocurrency miners, this is the first global event addressing the issues that miners face, where the industry is going and how to be more profitable.  The conference promises to introduce like-minded individuals while offering
over thirty-five practical workshops led by expert speakers.
What: Hashers United Conference
When: October 10-11, 2014
Where: Las Vegas, Nevada
Excellence in Gaming- EiG
With their new "outside-in" program, EiG has attracted over 38% more registrations than last year at this time.  EiG has morphed from a Euro-centric event to an "Excellence in Gaming" event, featuring delegates, speakers and exhibitors from around the globe.  Most exciting this year is the new host city and venue, a welcomed change according to loyal EiG delegates.
What: EiG
When: October 21-23, 2014
Where: Berlin, Germany
Barcelona Affiliate Conference- BAC
The BAC is back and sporting a new venue in Barcelona, the International Convention Centre (CCIB).  iGaming Business is forecasting a crowd of over 2,200 delegates, 100 affiliate programs and 70% affiliates plus two days full of relevant sessions and some damn good parties.
What: BAC
When: October 23-26, 2014
Where: Barcelona, Spain
China (Zhongshan) International Games & Amusement fair- G&A
Owned and financed by the Chinese government, the 7th annual China Zhongshan International Games & Amusement fair attracts over 280 exhibitors including arcade games, mobile games, video games, lottery equipment, simulators, touch screens and much more. Over 18,000 visitors are expected to attend throughout the event's three day expo.
What: G&A
When: October 23-25, 2014
Where: Zhongshan, China
The Summit of iGaming Malta, SiGMA
Not to be confused with "MiGS", the inaugural SiGMA 2014 has been designed to bring together the interactive gambling community in Malta, everything from operators to affiliates, regulators and service providers.   The event features an exhibition hall, a two-tracked conference agenda, poker tournament, official party and "last minute" drinks.
What: SiGMA
When: October 31-November 2, 2014
Where: St. George's Bay, Malta