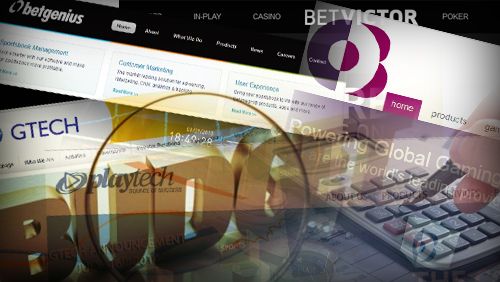 Over the next week or so, this column will investigate what it takes to successfully launch a new sports betting operation to market in the next couple of features. This particular element will cover off software selection perspective, before we analyse a couple of case studies next week.
Budget is the key factor when it comes down to it. Have a lot, then your options for both quality and flexibility, whilst not endless, are certainly more extensive. Have little, then you'll be coerced in to launching a white label site with minimal control. There's plenty to be said for all the options. So let's say…
a) You're one of the few new market entrants with a big budget…
Openbet, the software formerly known as Finsoft (now GTECH Interactive Sports Betting) and Geneity (owned by Playtech and fully integrated with their IMS platform) are probably the three most prominent sports betting solutions complete with customer management platforms that money can buy.
Openbet provides fully flexible, tailored product and service to customers such as Ladbrokes, SkyBet and William Hill – which, whilst an impressive portfolio, poses several barriers for a new operator.
1) The others will have bigger budgets than you, therefore always take precedence in the roll out queue.
2) Flexibility is great. You get what you want, but it takes time and does require more manpower to get off the ground and manage for all parties.
Both GTECH and Playtech offer stronger, additional in-house product suites that fit seamlessly to the account management system (perhaps more so than Openbet's gaming partners to their player platform), but do not offer the same flexibility in terms of integrating other games or software suppliers.
If you're looking to establish a range of product USPs either in terms of odds display, strong mobile offering and finely tuned customer management, all supported by your own trading team, choosing from one of these three big guns is probably your best move – but be warned, flexibility can bring with it frustrations.
b) You're coming to market with under $1 million in your back pocket…
Turnkey solutions such as those offered by Oddsmatrix, BetConstruct or Tain are ideal if you don't have the resources or wherewithal to run your own trading department. However, be warned that the automated odds don't allow anywhere near as much flexibility as having your own trading department – and you lose part control over risk in that respect. However, turnkey solutions allow you to pin your focus on developing your brand and marketing selling points, and are the ideal step if you're completely new to the market.
c) Like many new to the sports betting market, you're on a shoestring ($200k or less)…
White-labelling is the step below taking a turnkey solution and essentially sees an operation piggybacking on to the prices displayed with the parent operation. Everymatrix also offer this out, as do the likes of BetGenius. Many media brands opt for this sort of route to market and often partner up with a bookmaker directly for reskinned, hosted version of their site, minimising both the need to acquire a license and run a CMS system.
White-labelling carries huge risk though if you're relying upon it to make money, particularly when it's managed by a bookmaker's trading team. The maths don't really add up when it comes down to it. The Sun is a prime example of the flawed notion of white-labelling. BetVictor, Ladbrokes and bet365 have all partnered up with News UK in the past and all of them failed to deliver profit and saw their deals terminated. The fundamental flaw is the white-label partner's customer base attributes but a small proportion of the overall market that the trading team is managing. As such, a big bet made by a white label-referred customer might not carry enough weight to shift the market favourably in the white label's favour if the rest of the bookmaker's market sees money elsewhere – ultimately, the trading team must look after total risk and that's where the system falls apart.
On top of that, quite often white label providers handle the CRM for you, meaning you have little or no control – or more importantly ownership – of the customers you refer. This means it's difficult to transmit brand messaging into post-sign up communication. Providers charge lower upfront fees, may waive security deposits but seek close to a 50/50 split, or worse, on revenues. All told, that leaves little room for manoeuvre, based on a 50% share of a 108% margin, for example, to market the product through traditional media channels, even, in the Sun's case, if you own them.
Ultimately, the variety of options open to new brands approaching the sports betting market welcomes novices and experienced hands and brands, but getting success on a tightish budget is very rare. To have the product, ability to develop both product and brand selling points and the margin remaining to market the product tends to require a significant budget and knowhow. There have been very few start up success stories in the past few years, but the second part of this examination will look at 2 new sports betting brands making hay.
Comments