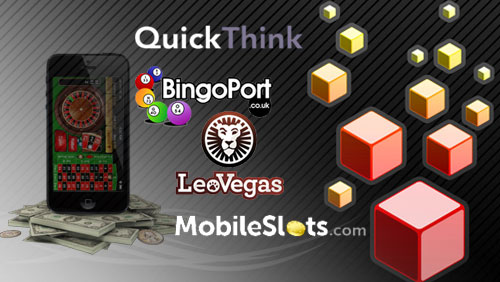 Opportunities for online gambling affiliates to make easy money are dwindling before our eyes. The landscape is more competitive than ever before and regulatory challenges in America have forced many affiliates into a new career and salary cut.
I am happy to say it's not all doom and gloom for affiliates as there are several niches ripe for the taking, two that we have covered already—opportunities in Bitcoin and opportunities with Asian gamblers—and this week we'll dive into the opportunities in mobile gambling.
The Opportunity
It's a common knowledge that mobile gambling is the next big thing and operators are jumping at the opportunity. There is opportunity for operators; there is opportunity for affiliates and in the case of mobile, the time to get involved is now.
Leo Vegas is an operator that took a mobile-first approach and have since become leaders in the mobile gambling marketplace. Shenaly Amin manages affiliates at Leo Vegas and is a champion of the opportunity in mobile gambling. "As most people will tell you, mobile is the way forward. Everything these days is focused around speed, functionality and on the go. This means mobile and tablet are perfect. The opportunities are endless with Mobile," she said.
An alignment with today's lifestyle is the key but it's also the sheer numbers make mobile gambling so appealing. Smartphone sales around the world are skyrocketing, opening up a whole new demographic of customers and customer behavior.
"The big opportunity that lies within mobile gaming for affiliates is volume", said Gavin Walters, head of affiliates for QuickThink Media. "It is reported that 1 in 5 people in the world own a smartphone and that figure raises to 7 in 10 for the UK, with this many people using their smartphones daily it is an expected natural progression that their mobile gaming activity will also shift in a similar pattern."
There are plenty of industry professionals who can confirm mobile gambling has been on the radar for years but no one was able to predict exactly when the boom would hit.
"The proliferation on gambling onto mobile devices has been like watching an explosion in extreme slow-motion," Scott Logan of BingoPort.co.uk described. "During the mid to late-2000s, everyone said it would be the next big thing but when it did happen it seemed as though no one was ready for it. While there's been a very rapid period of catch up, the opportunities still exist for affiliates to capture mobile traffic using all sorts of techniques, from SEO to apps and other mobile store environments."
Not only does the opportunity still exist for affiliates, it's just getting started. Trevor Edwards of Rovert Media Ltd. acquired and re-launched MobileSlots.com in July and has owned MobileBingoSites.co.uk since 2011. Edwards is putting his money and time as an affiliate into mobile.
"It's a fairly new market and is still in its infancy and won't peak till 2018, I believe. So by getting established in the mobile market early should fingers crossed help affiliates in the next few years to earn some good revenue as the mobile gambling experience just keeps getting better," explained Edwards.
Mobile player's value
There is a debate over the value of mobile players versus online players; some are claiming that mobile players are worth significantly less than online players are. However, according to the mobile gambling experts I spoke with, the opposite is true.
"From my own personal experience, the player values I have seen for mobile players on dazzlecasino.com that I own is higher than our online desktop players. As an affiliate, I am seeing my earnings increase month on month from the likes of Dazzle & working with companies such as Pocketfruity.com & Mfortune.co.uk," confirmed Edwards.
Walters explained his company's mobile players are reaching the value of players brought in from online but the real advantage of mobile comes in the form of retention.
"The major benefit of a mobile casino player is the loyalty you are likely to see. Once a player commits to a mobile casino, they will either bookmark the site or download the app; this then stays on their phone and will be a visible icon within their menu. Each day, they will see this and it acts as a trigger for future play," Walters said.
Logan believes the value of mobile players is just as good, if not better than players who exclusively play online. In the online bingo market in particular, Logan has also noticed an insightful trend when it comes to player value and second screening.
"We're finding players that are playing on two devices at the same time. For example, they'll be playing bingo on their laptop while logged into the same account (same wallet) on their mobile device playing a side game like slots or roulette. The result of this behavior is that, on average, someone who plays on multiple devices is almost twice as valuable as a single device player," Logan shared.
Mobile Gambling Affiliate's Strategy
Now that we know mobile gambling is here and the players are actually worth something, the mobile gambling niche is prime real estate for affiliates. The challenge for affiliates is learning how to adjust their strategy from online to mobile as the two mediums must be treated differently.
"You don't have a great deal of screen space on most mobiles, so you have to keep it simple and tell the visitor in a nutshell what's in it for them," advised Edwards. "You have to make sure that your responsive site has a call to action in the player's screen view without the need for them to scroll down and dig for it. Ideally this needs to be the case for all the most popular screen resolutions in horizontal and vertical mode when they view your site," he added
Another difference lies in the behavior of a mobile player versus a traditional online player, especially when it comes to the decision making process.
"Being primarily an online bingo affiliate, we see people using mobile devices differently to how desktops have traditionally been used. Users are snacking on mobile content prior to making a decision to join (and deposit) at a new bingo site. This is the real challenge for affiliates – how to be a part of this entire process, and be remunerated accordingly", said Logan.
Something that was pointed out by both Walters and Edwards is that mobile sites must load quickly; mobile players have less patience than online players and they are not afraid to click the back button.
Developments with tracking
One of the biggest challenges associated with mobile gambling is tracking. Anyone with experience in the affiliate industry knows the importance of accurate tracking and unfortunately, this has been a slow process with mobile.
"Due to the new technologies involved with the broad range of smartphones and mobile browsers, it's been a slow process making sure that affiliate tracking works on mobile (including automatic mobile detection and redirect keeping affiliate tags) and also making sure there's no traffic leaks throughout this process", explained Logan.
On the bright side, Logan added that tracking issues are improving as mobile becomes a more valuable part of the operators' business. Walters agrees that tracking capabilities will improve in the near future and Edwards has already identified a tracking system that he loves.
"I think the most innovative tool that has been given to me is adxtracking.com. This allows operators to track the install and registration of a player I have sent them that has installed their dedicated app and signed up from inside the app, rather then me forwarding them to their html5 site," Edwards explained.
Edwards confirmed that operators such as Paddy Power and Sky are using AdXtracking and more will follow. He also mentioned, "Most android and iOS phones can track well, it's just the ones on the lower operating systems or cheaper handsets that are the problem."
So how does Edwards account for traffic coming in through alternative operating systems?  "If [the operator is] using AdXtracking then we are pretty confident," he said. "All we can do is put a lot of trust in the operators really and have a moan if the click to reg and reg to FTD ratio doesn't seem right."