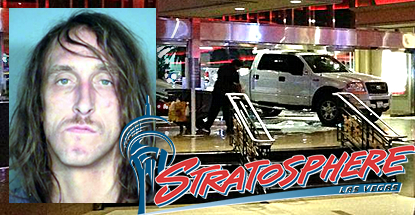 A man on a six-day drug binge crashed his pickup truck through the front doors of the Stratosphere Casino in Las Vegas in a bid to make himself famous. On Wednesday night, police arrested 40-year-old Ryan Brown (pictured) on charges of cocaine possession, driving under the influence of drugs and reckless driving.
Brown, who told police he'd been pretty much zonked on a cocaine and speed cocktail for the better part of a week, had reportedly planned to jump off the observation deck of the American Casino Entertainment Properties venue's 1,149-foot tower in a bid for immortality … you know, right before the whole 'splat' thing.
Police said Brown drove his Ford F150 up onto a curb in the Stratosphere's valet parking area around 8pm on Wednesday, which sparked an argument with a pedestrian. Brown then gunned his engine, smashing the truck through the casino's glass front doors before the vehicle became wedged between a set of metal stair rails. After climbing out of his vehicle, Brown got into a physical dustup with guests before being subdued by security staff.
Brown, who freely admitted his soaking wet clothes were the result of having seriously soiled himself at some point that day, also told police he shared a birthday with Elvis Presley (who had the good sense to die on the toilet). Brown reportedly became excited when he saw flashing lights atop an approaching tow-truck, apparently in the belief it was "national news photographers" come to make him a nationwide anti-hero. Police later found a small amount of crack cocaine and a pipe in Brown's truck.
Police said Brown had recently lost his job as an electrician following a domestic dispute with his wife. Brown failed to calm down following his arrival at Clark County Detention Center, forcing staff to outfit him with a spit mask, something all the cool kids are wearing these days at Sin City's ritzier incarceration facilities.
Comments