Macau Poker Cup Red Dragon Main Event draws another huge live tournament field as China's Zhenru Xie overcomes the Australian Mathew Ryan in heads-up action on his way to a HK$1,667,000 pay day.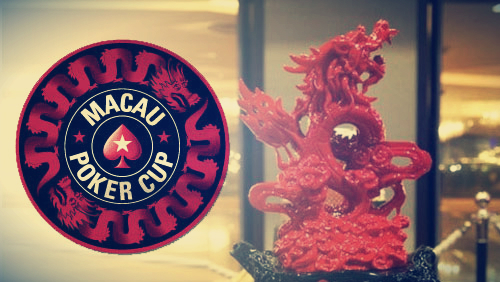 There will be a day when Asia finally flings open it's cyber doors, to all and sundry, and when it does it won't be so much as a second poker boom as pokers first supersonic boom.
Another huge field crammed into the PokerStars Live Macau card room as 808 players created a total prize pool of HK$7,837,600 in the 21st reincarnation of the Macau Poker Cup Red Dragon Main Event.
China's Zhenru Xie, who admitted to only being in Macau because his wife wanted to play, posting his second live score after winning $1,451 in a £330 Deepstack event in Dusk Till Dawn (DTD), Nottingham way back in 2008.
From Nottingham to Macau, now that's quite a trip.
Xie earned HK$1,667,000 for his victory (a smidgen over $215,000), and he is the second person from China to win the event in recent years, after the PokerStars Team Pro, Celina Lin, won her second title back in 2012.
Xie also picks up a very expensive looking Slyde Titanium design watch that will no doubt end up on eBay.
"I'm very happy to have won. I never thought I would win!" Xie told the PokerStars blog following his victory. "I have played a lot in the UK, but this is my first tournament in Macau. My wife wanted to play, so I just came along to join her!"
Xie went into the heads-up phase of the tournament with a 6.99m v 4.98m chip lead against the Australian Mathew Ryan, and the match deciding hand came when Ryan made a move on a board of [8s] [3s] [3h] [Ac], whilst holding [Kd] [8h], but Xie was left with the easiest call of his life holding [Ad] [3c] for the boat.
That hand gave Xie a huge chip lead and he cemented his place in Macau Cup history when his lowly looking [7s] [2s] flopped a pair of sevens in an all-in and call versus the [Jd] [4s] of Ryan.
Final Table Standings
1st. Zhenru Xie – $HK1,667,000
2nd. Mathew Ryan – $HK1,100,000
3rd. Takuya Yamashita – $HK658,000
4th. Pete Chen – $HK491,000
5th. Hu Liu – $HK350,000
6th. Chen Wang – $HK290,000
7th. John Hoang – $HK232,000
8th. Emming Zhang – $HK175,000
9th. Wai Leong Chan – $HK135,600
Comments