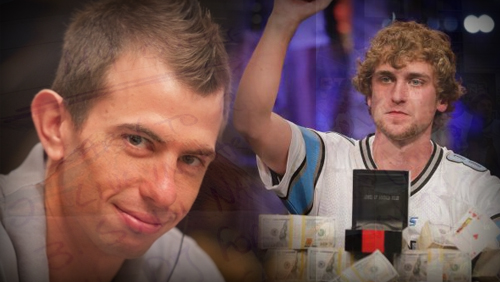 Shannon Shorr and Ryan Riess have been busy ticking off bucket list items as the former reaches the peak of Mount Kilimanjaro, and the latter gets to play basketball with the celebrities.
Do you have a bucket list?
If you don't then you are missing out.
We all have dreams, but they will never turn into tangible experiences, and wonderful memories, if you don't plan for them.
Get planning.
I'm not sure if it was a bucket list task for Shannon Shorr to climb to the peak of Mount Kilimanjaro, but reading his blog, I know that it will always remain one of the most important experiences of his life.
The number seven-ranked Global Poker Index (GPI) Player of the Decade achieved the feat after being coerced into it by the exuberance of his friends Jesse and Paul Yaginuma.
That was a year ago, and with the World Series of Poker (WSOP), and a trip to Brazil for the FIFA World Cup, sandwiched in between, Shorr didn't get the best form of training one would expect for such a majestic climb.
But if you know Shorr, you know he is made of stern stuff. He has been going through an incredible change of awareness in his life, over the past few years, and his body and mind have never been in a better spot for a challenge such as this.
The trip got off to the worse possible start after Shorr arrived at his destination, after 22-hours of travel, and only his duffel bag had arrived with all of his hiking gear sat smoking a phat one in Amsterdam.
Undeterred, Shorr focused on positive thoughts, and after initially thinking, 'what did I get myself into?" He arrived at the summit some six days later, after experiencing what he called the greatest high of his life.
The only problem you have when climbing the highest freestanding mountain in the world is you have to walk back down. 16-hours of hiking later, and suffering from altitude sickness, Shorr eventually reached his home from homes.
On the brink of physical exhaustion Shorr did what everyone else would do in that situation.
He went clubbing.
Ryan Riess Shooting Hoops With the Stars
Whilst Shannon Shorr was conquering Mount Kilimanjaro, Ryan Riess was creating everlasting memories on the basketball courts of Los Angeles.
Riess the Beast was one of 27 celebrities that came together to earn money for the 'Straight but not Narrow' organization, that teaches children how to support the Lesbian, Gay, Bisexual and Transgender (LGBT) community.
The former World Champion joined forces with the NFL wideout Terrell Owens, Kick-Ass star Christopher 'McLovin" Mintz-Plasse and Hunger Games star Josh Hutcherson in a Nike 3 on 3 Tournament.
Riess, who towered over most of the other 26 celebrities, posted several photos on his Twitter account after his team won 78-55.
Team pic from before the game pic.twitter.com/8xDXLt2vtS

— Ryan Riess (@RyanRiess1) August 11, 2014
Comments