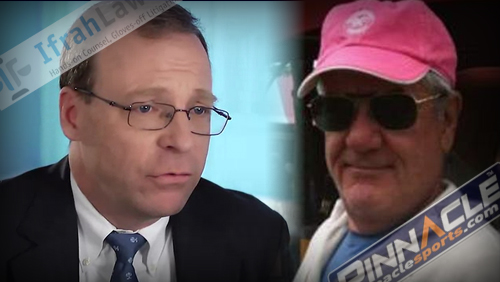 WASHINGTON, D.C. – July 29, 2014 – This morning, the criminal prosecution of Stanley Tomchin – featuring an indictment charging Mr. Tomchin with 56 separate felonies – ended quietly with an agreed upon plea to a minor offense with a sentence involving no incarceration or even probation supervision. Mr. Tomchin, an alleged owner of PinnacleSports.com was facing allegations of criminal charges of conspiracy, money laundering, and enterprise corruption (a class B felony with mandated state prison upon conviction) in connection to an alleged illegal multi-million dollar sports betting ring.  Mr. Tomchin was permitted to resolve the case with a dismissal of all felony 56 counts and the entry of a plea to a class B misdemeanor – the least serious category of crimes under New York State law.
Mr. Tomchin's attorneys, including Ifrah Law partner David Deitch, were understandably upbeat after this result: "We are very pleased with the resolution of this case," said Deitch.  "The District Attorney's Office began this case with an exaggerated press statement that sought to portray Mr. Tomchin as a gangster kingpin.  Their willingness to resolve the case with a plea to a class B misdemeanor shows that those claims were no more than a smoke and mirrors façade designed to hide a case with weak evidence."  Several other defendants have entered pleas in the case; nearly all have pleaded guilty to felonies.
Mr. Tomchin was originally indicted in 2012 by the Queen's County (NY) District Attorney's Office along with 24 other defendants.  The indictment accused the group of creating a racketeering organization for the purpose of  running illegal gambling operations in excess of $50 million, and Mr. Tomchin faced up to 25 years in prison on 56 felony counts.  The indictment labeled Mr. Tomchin as a top "bookmaker" responsible for directing the actions of numerous "agents" who assisted gamblers to place illegal wagers via the internet.  Media reports following the indictment that referred to Mr. Tomchin as a "kingpin" and suggested that he had ties to organized crime "were clearly overblown," noted Firm founder Jeff Ifrah.
Mr. Tomchin was also pleased with the result, and hopes to put the stress of enduring a years-long prosecution behind him.  Mr. Tomchin is also helpful that the resolution of the case will permit him to resume his philanthropic work, much of which has been impeded by the pendency of the Queens indictment.