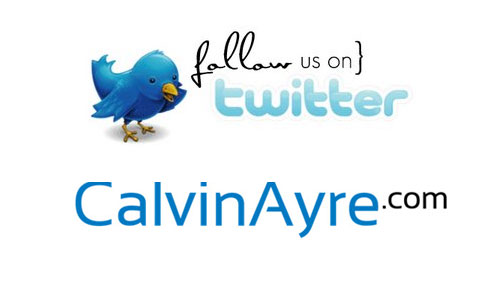 [polldaddy poll=8192653]
CalvinAyre.com is the Internet's number one gambling news site created by industry pioneer and the founder of the Bodog Brand, Calvin Ayre. It is where professionals working in the gambling industry around the world can be updated 24/7 on the latest news. It offers breaking news, a complete gambling industry directory, gambling conference and event highlights, as well as expert opinions discussing hot topics in the global gambling industry.
Subscribing to our newsletter, by clicking the Sign Up button on the upper portion of the website and submitting all necessary information, will give you a snapshot of all the latest news and updates delivered in your inbox. It is a personal invitation and reminder so you can be sure never to miss any of them.
Another way of keeping yourself in the loop is to follow us on Twitter @CalvinAyreNews, which is why we decide to ask our readers, "Do you [email protected] on Twitter?"
Leading the votes with 48 percent answered, Yes, 22 percent said No and the remaining 30 percent said, I don't use Twitter.
Twitter is a free app that lets you connect with people, express yourself, and discover more about all the things you love. Since its founding, Twitter has grown into a social media juggernaut and popularity on the service often used as a benchmark of influence.
All of our followers get in-the-moment updates about gambling news lifestyle information, conferences, industry shakers and event coverage. With a wide range of connections that we have from every angle of the gambling industry, they can watch events unfold, real time. If you are not following us on Twitter yet, these are what you are missing.
Follow @CalvinAyreNews on Twitter!
The govermentis to impose a 15 percent tax rate on operators in the gaming companies serving UK gamblers incorporated in previously untaxed (by UK Proper) locales like the Isle of Man and Gibraltar, which is why we decide to as our readers, "Will any Gibraltar or IOM operators move back to London after the 15 percent tax is implemented?" Check back next week to see what our readers think.