Gibraltar – 23 July 2014: Wild Game Reserve (WGR), Odobo's in-house game development studio, has launched its first complete internal production slot game, The Oddventurers, to operators via the Odobo Marketplace.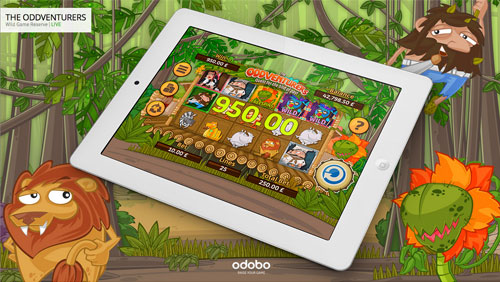 The Oddventurers: Quest for the Bird of Pay is the first of many device-interoperable HTML5 slot games being developed by Odobo's dedicated internal game studio. The 5×3 game features 25 paylines, wilds, free spins and four interactive bonus games. A special multiplier wild is available on the central reel and can double line payouts while multiple bonus games offer greater variety at different win levels. For players seeking better returns, the game also features retriggering free spins – giving the potential for more significant wins.
The theme is that of a safari adventure and incorporates quirky characters with a humorous storyline – presented in a light-hearted cartoon style. Using the team's extensive experience, Wild Game Reserve has set out to build an exclusive game that showcases the potential of an extensive bespoke tool kit made available to all participating developers in the Odobo Developer Program.
Mark McGinley, Studio Manager at WGR, said, "Our first in-house production slot game has been designed to combine the most effective features of social, casual and AAA gaming with the best practices essential for real-money gaming. We're thrilled with the result. By having our own in-house studio we are able to experience the developer journey first hand and feedback to the wider Odobo team in order to continually improve the Developer Program for other approved studios."
Ashley Lang, Founder and CEO of Odobo, said, "The Oddventurers showcases the exceptional talent within our internal game studio. It is an achievement and offers the WGR team the opportunity to highlight its creativity and production skills while creating a business case for further research and development. The knowledge garnered from this project has led to the creation of new tools and capabilities that will benefit all our approved developers and those joining our Developer Program."
The WGR team that built this game from concept to certification is comprised of games professionals who joined Odobo from Rockstar, IGT, Konami, Popcap, Bullfrog Productions, Badoo, Crytech and Microsoft Games Studio to take part in next-generation games development for regulated gambling in HTML5.  The Odobo team skill set covers games production, game design, mathematics, art direction, 2D & 3D art, UX design, audio production, HTML5 development, JAVA game engine development, QA and localisation.
The Oddventurers: Quest for the bird of pay is now available to play for free on www.OdoboPlay.com.
About Wild Game Reserve:
Wild Game Reserve is Odobo's in-house game development studio. It produces unique and exclusive real-money gambling titles using best practices essential for real-money gambling. Code examples, frameworks, design approaches and learnings that result from WGR productions are incorporated into the tools and reference materials offered to participants of the Odobo Developer Program.
The Gibraltar-based team is comprised of veterans from Sony Online Entertainment, Microsoft Game Studios, IGT, Rockstar Games, Konami, Popcap Games, Bullfrog Productions, Betfair, Badoo, Crytek and Full Tilt."
About Odobo:
Odobo has developed and deployed the industry's first HTML5 Marketplace and Developer Program for the real-money gaming industry. The result is a modern, fully distributed and cloud-enabled solution devised by industry veterans specialising in mission-critical systems.
For operators
The Odobo Marketplace is an integrated "App Store" where the latest HTML5 games can be licensed from developers on the platform. A single integration provides access to the full Odobo content portfolio. All games are presented with profiles that contain promotional imagery, descriptions, screenshots, icons, commercial terms, territorial rights, languages, marketing assets, and exposure details. Like other app stores, deploying and configuring any game takes just a few clicks, with no downtime or assistance required from technical operations.
For developers
The Odobo Developer Program provides an opportunity for studios worldwide to get their games into regulated markets. The program specialises in recruiting, supporting, and assisting developers through their entire game production process. Developers are supported with an impressive array of state-of-the-art technologies and services that include: Game Development Kit (GDK), HTML5 development tools and environments, game engine creation and mathematical verification, compliance support, localisation screening and oversight, marketing and promotional bundling, in addition to business development with operators.
For players
Odobo's approved developers offer a high-quality and diverse set of games that play across all devices. Players are encouraged to learn about the games and play them for free via our games discovery channel, Odobo Play. Players can then choose their favourite operator to play for real-money. Odobo Play will soon be available via a Native App for iOS.
Odobo, based in Gibraltar, is licensed and regulated by the Gibraltar Gambling Commission. The company employs over 80 staff.
Odobo, Odobo Marketplace, and Odobo Play are registered trademarks of Odobo Limited.
Victoria Bonner
PR & Senior Copywriter
E: [email protected]
S: Victoria.Odobo
M: +350 58007782
S: Victoria.Odobo
T: Vikbonner
Odobo Limited
9A Glacis Road, Gibraltar
Comments