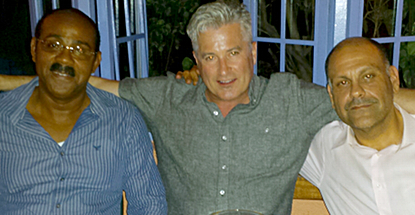 Bodog brand founder Calvin Ayre (pictured center) was invited out for a private dinner on Tuesday with Gaston Browne (on Calvin's right), the new Prime Minister of Antigua and Barbuda, and Asot Michael (on Calvin's left), the new Minister of Tourism, Investment and Energy. While now retired from an active role in the online gambling business, Calvin maintains a solid grasp of the industry in Antigua, where Bodog retains its global head office (and Calvin retains a home, several wakeboards and a well-stocked bar). All of which makes Calvin the perfect dinner date when the two most powerful members of the new government meet to discuss the industry's past, present and future.
Browne told Calvin that his new Labour government is committed to resolving the country's longstanding trade dispute with the United States. The World Trade Organization has repeatedly ruled that the US refusal to grant Antigua-licensed operators access to the US market is a breach of trade agreements, but the US has refused to acknowledge these rulings, leading to an inevitable contraction of the Antiguan online gambling industry. Browne says he plans to take a more aggressive stance than his predecessor Baldwin Spencer had taken over the past decade.
Other than a new combative attitude in global trade relations, Browne says it is business as usual for Antiguan online gambling operators. Browne is committed to doing what's necessary to ensure the local industry has all it needs to be successful. In turn, Calvin told Browne that Bodog was exploring a number of new projects in Antigua, details of which will be revealed as they take on more concrete form.
One thing Bodog can reveal is its pledge to assist the new government's '500 homes in 500 days' project. Browne said his commitment to affordable housing for Antiguans had been criticized during the recent election campaign by "those will little or no vision" but insists the doubters will be proven wrong when the project gets underway within the next month.
Browne's commitment to reviving Antigua's economy was demonstrated almost immediately following the election, when he announced a $740m deal with China's YIDA International Investment to develop a mixed-use project that will include a casino. Browne noted that he'd promised his administration "would bring the type of investments to the country that will transform Antigua and Barbuda into an economic powerhouse and I am serious about that promise." Antigua, Browne believes, has "finally moved out of a reverse gear and into the drive gear."