Luis Suarez biting incident against Italy leads Lee Davy to investigate whether the incident is a good or bad thing for his online-poker sponsor 888Poker?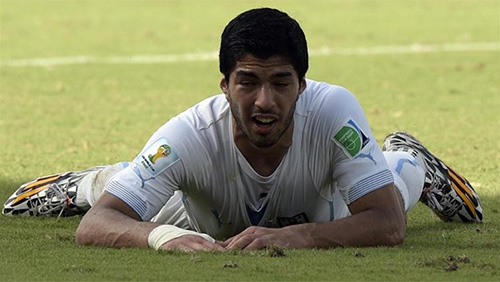 Have you ever bitten anyone?
You have?
Okay.
Have you ever bitten three different people?
I do not believe in striking a child but when my son was younger, if I had witnessed him biting someone, I think I could make an exception.
I don't know about the rest of the world but in the UK there is a rule that everybody abides by—with the possible exception of Geoffrey Portway—and that rule is you never bite another human being.
It's sacrilege.
Perhaps, this is why the nation of Uruguay is saying that Britain are leading a witch hunt against their star striker Luis Suarez after he appeared to bite the left shoulder of the Italian defender, Giorgio Chiellini, during Uruguay's one-nil victory that knocked the Italians out of the competition.
But it's not a witch-hunt; it's more of a cannibal hunt. The British don't like that sort of thing. We don't want it in our game and Luis Suarez is in our game.
The interesting thing is what happens next?
I assume favoritism will come into play here, and even the Italian with bite marks in his shoulder understands that weight of leniency as he told reporters, "Luis Suarez is a sneak and he gets away with it because FIFA want their stars to play in the World Cup…I'd love to see if they have the courage to use video evidence against him."
When asked if he had been bitten by Suarez, he replied, "Yes…yes…the referee saw the marks but didn't want to take any action."
FIFA have stated that an investigation will begin but the maximum sentence they can dole out is a ban of up to 24 matches.
Is this enough?
There is nobody who supports second chances more than me but when you have bitten three different players, in three different countries, all in front of the TV cameras, then I'm sorry; the harshest of sanctions have to be stamped all over his body.
It just isn't going to happen.
Uruguay needs him and his club Liverpool needs him. I can't wait to hear the excuses that pour out of Anfield as they try to support the man whose goals nearly won them the title this year.
Liverpool should sack him.
Extreme?
Name me a company anywhere in the world that will allow an employee to bite someone, just once, and escape the sack? You won't find one. Three times? This is not a man who learns from his mistakes. This is a man who is a goalkeeper short of a football team. A man who is so big for his own boots they can't stop falling off.
And what about 888Poker?
When he signed for them back in May, I wrote an article asking whether or not it was a good thing for poker. The overwhelming feeling that I got from social media was positive. Luis Suarez would bring more people to poker.
But will he?
In 2004, Canadian Ron Bensimhon stepped to the edge of the three-meter springboard and prepared for his dive. It was the Athens Olympics; one of the biggest sporting stages in the world.
The crowd cheered and chanted as Bensimhon made his move, and belly-flopped into the water.
Belly flopped?
As Bensimhon swam to the edge of the pool he was escorted out by security. He wasn't an Olympic diver. Bensimhon is one of the most famous streakers in the world. Only this time he wasn't naked. He was wearing a blue tutu and white polka dot tights with the words GoldenPalace.com written across his chest.
But nothing changed for GoldenPalace.com.
That image was seen by millions of people around the world. The publicity it garnered was astronomical. But it didn't matter one iota. It turned out to be one of the most dismal guerrilla-marketing tricks of all time because the stunt had nothing to do with the brand it was purposely trying to promote.
Nobody knows that Luis Suarez is affiliated with 888Poker except the poker community. If you don't believe me then Google his name. The story of Suarez biting Chiellini is trending worldwide but you won't find a link to 888Poker.
This incident answers my own question. I actually believe 888Poker are wasting their money signing a player who I doubt will ever successfully market their product. I don't think his club would like it and I don't think he will be that interested and he has just increased his net worth in the standing of most hated sportsman in the world.
Luis Suarez is not the only player to be sponsored by 888Poker. Jay Farber, Jackie Glazier, Xuan Liu, Sofia Lovgren and Shane Warne as just a few who get paid to wear the patch. Are we going to see this lot tweeting the virtues of their new comrade?
"Come and play on 888Poker with Luis Suarez."
Can you imagine the surge of hateful tweets they will receive in return?
Even the MMA fighter Georges St. Pierre, a man who tries to nearly kill people for a living, will be disgusted at a man who bites people—and for apparently very little reason. Did you see Chiellini kicking him all over the park?
I didn't.
Ultimately, I think Luis Suarez is the walking dead. I think the heat he will receive from the British media and the fans will see him walk out on Liverpool.
He will not walk out on 888Poker.
Why would he bother?
But they should act and they should act now.
Not to make a statement of intent but to save money.
He has been found guilty of racism, biting two opponents and now faces trial by television after appearing to bite a third.
Get rid of him now before your association takes a bite our of your own profits.