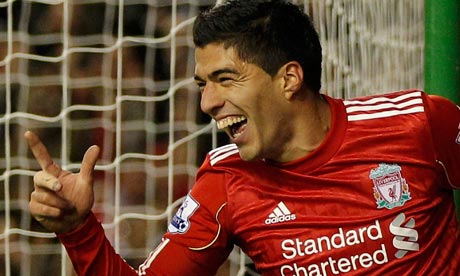 First things first. Congratulations to Manchester City for winning the English Premier League season, its second title in the last three years. This time around, City didn't have to rely on the theatrics of 2012 to stamp its name into the history books. It just took care of its own business and deservedly earned the title over a Liverpool squad not many people thought would even come close to contending this year.
Now that we've gotten that out of the way, this space is dedicated to the runners-up, specifically the woe-be-gone Reds who came so close to winning its first ever Premier League title and its first league title since 1990. Had it not been for a few late-season slip ups of the literal and figurative variety, we would be talking about the dramatic ascent of Liverpool's extraordinary campaign, punctuated by arguably one of the most unexpected championship runs in the EPL's history.
Do you realize that had Liverpool won, those who backed them at the start of the season would be sitting on a golden ticket that had 20/1 odds on them. Those were the odds the team to win the EPL title before the season began, on par with Tottenham and behind Man City, Manchester United (yuck!), Chelsea, and Arsenal.
If you're interested to know, City were the co-favorites with United (yuck again!) at 11/5 odds. To be that close to whooping it up on a winning 20/1 ticket must have felt like a gut punch for those who bought stock on Liverpool back in August. So close yet so far.
But before you start walking alone, sobbing in between cries of anguish and disgust, you can take comfort knowing that at the very least, the league's top goal scorer also had 20/1 odds to win the proverbial golden boot. And yes, he's a member of Liverpool.
Luis-freakin' Suarez!
Believe it or not, Suarez was far from the favorite to top the EPL in goals scored this season. That honor belonged to United's (yuck! yuck! yuck!) Robin van Persie at 9/4 odds. By the way, he finished in 15th place with 12 goals. Suarez wasn't even second (Sergio Aguero – 7/1), third (Christian Benteke – 10/1), fourth (Roberto Soldado – 12/1), or even fifth (teammate Daniel Sturridge – 14/1). The Argentinian was tied for sixth at 20/1 odds with Edin Dzeko and the immortal Fernando Torres.
To be fair, Suarez entered the season with a severe handicap after serving a seven-game suspension stemming from his munching on Branislav Ivanović's arm last season. But, boy oh boy, as soon as he was cleared to play, Suarez turned in a career year, running away with the EPL's golden boot on account of his 31 goals, 10 clear of runner-up, teammate Daniel Sturridge. So if you have a Luis Suarez ticket to score the most goals this season at 20/1, you have an excuse to lose your mind for a little bit.
Liverpool may have fallen short at its own 20/1 odds to win the EPL title, but at least Suarez bagged his own longshot odds in pretty convincing fashion – and he didn't even have to bite another arm to do it.