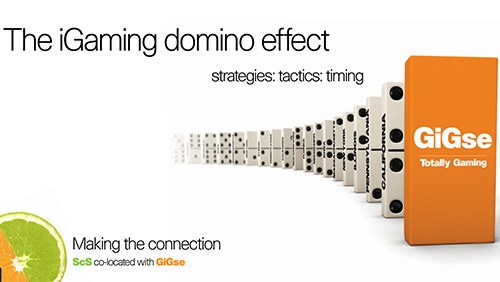 The Global iGaming Summit Expo (GiGse) is the largest industry event that focuses on regulated internet gambling in the United States. On its second year, the event will be taking place at the heart of the world's innovation, technology and investment hub, San Francisco, California, on July 14–16 at Hyatt Regency. It will be co-located with the Social Casino Summit (ScS), which is specifically designed to attract social casino developers and suppliers, giving you the access to innovation, new game design ideas and exciting business model that is generating significant revenue for the likes of Caesars and IGT.
The iGaming domino effect started from New Jersey, Nevada and Delaware—the new states are expected to follow and the pressure is rising for the industry to step-up their iGaming plans and investments to take the full advantage of the digital opportunity. The launch and operations in the three states provides a test case for both policy makers and operators on the profitability of the business, effect on land-based operations, customer response and social impacts. Eight months after, GiGse takes place at the right time to clarify questions and to prove or disprove what so far has been speculation and assumption. The strategic debates will be put in the context of real data shared by the speakers and provided by GiGse through its Consumer Insight focus. The workshops, office visits and product demonstrations planned as part of the GiGse agenda will demonstrate iGaming in Action so you can witness for yourself the best practice and thus sharpen up your own iGaming strategy.
It will be an event of meet-and-greet of the CEOs of the most established casino companies and the aspiring start-ups you haven't heard about and getting a beneficial expertise from over a hundred speakers and presenters offering an in-depth perspective of the pertinent issues converging at the forefront of the ever-changing iGaming arena—you can be sure to have the opportunity to interact with even more industry peers this year.
Join over 700 high-level industry professionals at the USA's premier iGaming event to benchmark and sharpen your strategy by gaining invaluable competitive and consumer insights at Hyatt Regency on July 14–16, 2014 in San Francisco California.
Register now at www.gigse.com or contact Shane Mortimer at +44 (0) 207 384 8113 or [email protected]