Lee Davy sits down to talk to the Senior News Editor of PokerNews, and World Series of Poker Bracelet winner, Chad Holloway, as he attempted to defend the Casino Employee title he won last year.
Chad Holloway is the Senior News Editor for PokerNews and a World Series of Poker (WSOP) bracelet holder.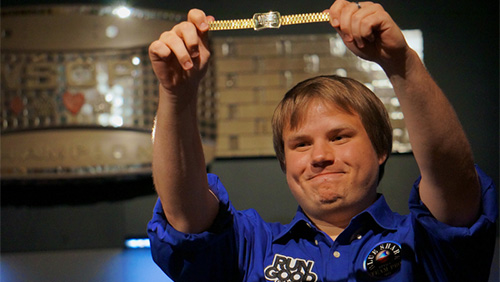 The Wisconsin man overcame 898-players, to capture the $500 Casino Employee title back in 2013, and it spread hope amongst his fellow writers that dreams can come true.
I have a feeling that most poker writers are wannabe poker players. Does that mean we have to remove the word wannabe from any sentence involving Holloway now that he has etched his name in the history books of the greatest poker series in the world?
"I played poker for a living before I started working for PokerNews. That was my primary source of income." Holloway tells me as we hide away in the maze of hidden corridors in the Rio," I wouldn't say that I was a failed poker player, because I was getting by; but I wanted to find a way that I could be immersed in the poker world.
"I had dreams to play in the $10/25k High Roller events, but realized that it wasn't going to happen, but I yearned for that experience, so I thought if I could work my way up through the industry maybe opportunities could present themselves."
And present themselves they did.
"Last year was something very special, and I am going to be carrying those memories with me for the rest of my life. It was an unbelievable turn of events, and a great start for the series, " said Holloway before continuing. "This year I am happy to be defending, but the chances are I am not going to win, so I won't have that high that carried me through the summer last year. No matter what happened I couldn't have a bad day. This year will me different – more of a grind."
Not that it bothers Holloway. The man won close to $90,000, in his famous victory, and then threw the bracelet in his rucksack, pulled out his notepad and pen, strolled onto the floor that he had owned just days earlier, and started doing his job.
The consummate professional.
Holloway had his detractors though. Green-eyed monsters that always lurk around the corner from where success hangs out. For some, the Casino Employees event should not be open for writers. As a writer I disagree, but I would, because I am biased.
Then you have Terrence Chan, the Ultimate Poker (UP) employee, and professional poker player, who took his seat in the Casino Employees event. So does this mean that the entire roster of UP pros could have played?
"I caught a lot of flack, last year, because I worked for PokerNews. The controversy surrounded the fact that PokerNews isn't a casino – even though I spend all of my time working inside of them – but I played because we are contractors of Caesars and they said I could play.
"I don't have any problems with Terrence playing. As far as I am concerned as long as you belong to the gaming world I think this event should be open to you.
"When it was first established it was for dealers only, and then they opened it up to casino employees. I think both industries have changed dramatically since the inception of this tournament, so I think it's important to open the event up to more people."
The crashing of the gavel silences the chorus's of 'here, here's' that are currently resonating around my mind.
It's not all gravy for PokerNews employees though. They might be allowed to play in the Casino Employee's event – but that's where the buck stops. In a ruling that I just cannot comprehend for the life of trying, PokerNews employees are not allowed to play in any other WSOP events.
"We are officially contracted by Caesars and so we have to follow the Caesars Employee's Guidelines. It's disappointing, not necessarily for me, but for the newer members of the team who join and want to experience playing in a WSOP event. I am sad that they no longer get that opportunity, but that being said, there are plenty of opportunities to play poker at this time of year."
So was Holloway close to doing a Kristy Arnett? Was the pad and pen close to being mothballed in place of a card protector and shades?
"Not at all. If I get extremely lucky and win this one back to back I may have to say to the bosses, 'let's have a conversation as I may want to play a little bit more this summer'. But you know the odds are very slim and I really enjoy what I do."
Unfortunately for Holloway he did not make it through the carnage of Day 1, and so will not be repeating his success of last year. Bad news for him, but good news for the thousands of people who like to read the thoughts of the man who knows a bit or two about the game.
Chad Holloway: Writer, Senior News Editor, charming character and World Series of Bracelet Holder.
Man…does that have a nice ring to it.