Lee Davy sits down with the recent World Poker Tour (WPT) National Series winner in Marbella, to talk about his upcoming appearance on Sky Pick, where he will be taking part in the television show Make me a Millionaire Inventor.
Steve Watts is a former professional footballer who traded the football pitch for the poker felt after being forced to retire due to injury.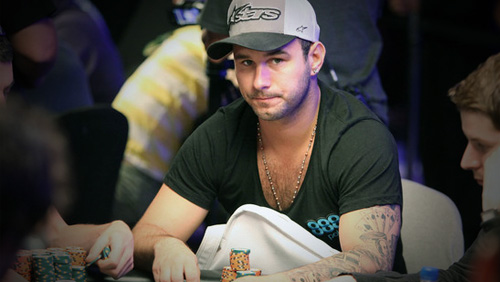 He has won just under $700,000 in live tournament earnings, including a 59th place finish at last years World Series of Poker (WSOP) Main Event; and he recently took down the bwin sponsored WPT National series in Marbella.
The last time I saw you was in Venice. You had just been handed some pretty nasty beats to (a) take the chip lead at the end of the penultimate day, and (b) resulting in your 16th place finish. You told me that people were saying you had to start closing tournaments out, but you weren't getting the luck, and then Marbella came along, tell me a little bit about that.
I lost kings versus king-jack in a hand that would have put me in a great position to make the final table in Venice, and I took that confidence into Marbella. I got lucky to crack kings with queens and from there I took the chip lead and the final table was over in 90-minutes. I was hitting everything.
Was it important to get a title under your belt?
I haven't won a title for a while and I know when I am heads-up I can win, but I am really confident going to Vegas. There was a really good field at the UKIPT last week and I came 40th in a field of around 1,400 players. I got a couple of bad beats, that if they had gone the other way, would have pushed me onto the final table.
All set for Vegas?
I have a nice schedule and I am going to be investing about $60k. I am going for seven weeks which I have never done before and I am determined to change my habits and concentrate on getting a routine going; eating healthy, going to the gym, and hopefully lose a bit of weight and get my confidence high for the main.
As an Arsenal fan you must be delighted about the FA Cup win?
I lost my cup final on that day as well. I got the man of the match award, and scored a goal, but we lost 2-1. It was a hot day and I had a chest infection, so I was down anyway, and then when I got home Arsenal were two nil down and I thought this could be the worse day in history.
At the end I was a bit emotional, because you saw how much it meant to everyone. I just hope he signs the right players now and we can kick on.
Rumor has it you are going to be on the television – talk to me about that?
A few years ago I was on the beach in Ayia Napa and my mates and I wanted to go on the jet ski's, but someone had to stay behind to look after all our iPods, iPhones, etc. Then later on I got a beer and wanted to turn the bed around and knocked it over, and thought, there has to be a better way of managing this sunbathing lark.
So I designed a bed called Rotasol360 that you can spin and face the sun when you want. You can lock your valuables in the bed, and they stack five high and can be locked over night.
I'm going to be on television show on Sunday. It's on Sky Pick at 3pm. It's called "Make me a Millionaire Inventor". It's a little bit like the show 'Dragons Den', except the Dragons are from your industry, so when it was being filmed the three judges were from the leisure industry.
They all said they wanted to invest in the Rotasol360 but not until after the show aired, and its taken over a year for that to happen. Hopefully, when the show comes out on Sunday we will learn a lot more. There are going to be a few million watching it so hopefully it will shake up some more interest.
I went to Tenerife about a month ago with my missus and we went to the beach; to hire a bed it was €10, then €5 for a parasol and another €5 for a locker. Our product is a lot more affordable and you can lock your valuables inside the actual bed making it a much better alternative.
Also the lockers that they had on the beach in Tenerife looked awful, and our beds look the business.
Have you always been an inventor?
I was very close to doing the multicolored bins, for different types of wastes, but they had just gotten in before me on the patent so I just missed out on that. I also tried to create a sock to help people with metatarsal injuries, but our investor pulled out.
Now it's all down to the investment on this one. We need the money to get the stock, so hopefully people will tune in to the show, will like what they see, and get hold of me to invest.