Arsenal end their 9-year trophy drought, after coming back from two goals down to defeat Hull City 3-2 in the 2013-2014 FA Cup Final.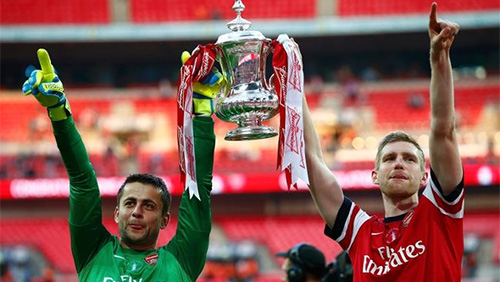 "Every defeat leaves a scar in your heart."
Those were the words of Arsene Wenger during a pre-match interview, in the build up to the FA Cup final, and just 8-minutes after kick off it seemed that Steve Bruce and his Hull City team were about to leave one more; only this time you felt it was going to be fatal.
Two set pieces – finished off clinically by James Chester and Curtis Davies – gave Hull City an unlikely two goals start, and the owners of the Arsenal decorative FA Cup winners bus, were starting to look like a couple of mugs.
It was a critical game for the future of Arsenal football club – perhaps, the most important in the 18-years that Arsene Wenger has been at the helm. Win, and a new contract would be signed and the 2014-15 season could start with renewed optimism. Lose, and you felt sure that Wenger would be forced out of the club that he has loved for the past two decades.
Hull started lively, and passed the ball around with confident aplomb. Tom Huddlestone orchestrating the action like a quarterback. However, Arsenal always had the quality; never better demonstrated than when little Santi Cazorla sent a gem of a free kick hurtling into the top corner to get the Gunners right back into the thick of it.
After the re-start there was only one team in it. Arsenal controlling the play while Hull City got deeper, and deeper. Then in the 71st minute, Laurent Koscielny turned in the six yard box to slot the equalizer past the hapless McGregor, and you couldn't help feel that the only way Hull were going to get their hands on the FA Cup was to win on penalties.
Keiran Gibbs missed an absolute sitter in the 79th minute, and Santi Cazorla should have had his second penalty a few minutes later, before the final whistle blew and the game went into extra time.
The sight of the fresh pairing of Jack Wilshere, and Tomas Rosicky, was the last thing Hull needed to see in extra time, as Wenger made his intentions very clear that he was not going to settle for the lottery of a penalty shoot out.
That extra bit of quality, and freshness, made all the difference as both players were involved in the winning goal, superbly put away by the man of the match Aaron Ramsay, to hand Arsenal a record 12th FA Cup success, and surely hand Arsene Wenger a new contract.