The Women in Poker Hall of Fame (WiPHoF) have announced that Allyn Jaffrey Shulman and Deborah Giardina will be inducted as the Class of 2014 in a specially arranged evening to be held at the Golden Nugget in Las Vegas.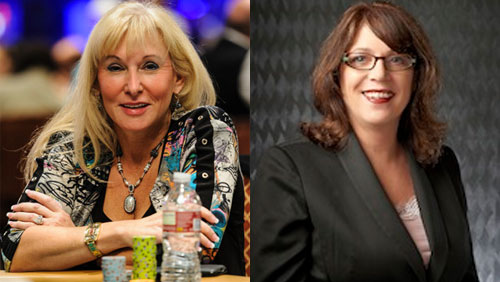 Who has made it into the Class of 2014 WiPHoF?
Allyn Jaffrey Shulman and Deborah Giardina have been selected from a short list of seven to be inducted into the WiPHoF during a specially arranged Gala luncheon on Wed June 25th at the Golden Nugget in downtown Las Vegas.
The current WiPHoF members, and a selected band of media partners, selected the two women after emerging from a short list that included the likes of Donna Blevins, Debbie Burkhead, Ruth Hall, Esther Rossi and Jennifer Tilly.
Shulman has amassed over $1.2m in live tournament earnings, and her two most prominent achievements came when she won $293,966 by taking the top spot in a $5k NLHE contest as part of the 2013 Deep Stack Extravaganza III in The Palazzo, Las Vegas; and won $603,713, and a coveted World Series of Poker (WSOP) bracelet, after topping a field of 4,128 entrants in the seniors event back in 2012.
Giardini has been honored for her involvement off the felt. She started her career as a deal in Colorado circa 1990, and worked her way up to the position of Vice President of Poker Operations at bestbet Jacksonville in Florida.
The pair join the likes of JJ Liu, Kathy Raymond, Phyllis Caro, Kristy Gazes, Margie Heintz, Billie Brown, Jennifer Harman, Kathy Liebert, June Field, Jan Fisher, Cyndy Violette, Barbara Enright, Susie Isaacs, Linda Johnson and Marsha Waggoner.
The Hall of Fame that was founded on May 1, 2007 by the Ladies International Poker Series (LIPS).