In 2011, Sam Holden was thrust into poker's biggest spotlight when he made the final table of the World Series of Poker Main Event.
After pocketing close to $800,000 he went on to prove that it was no fluke by winning the prestigious Late Night Poker title for a further $150,000.
Primarily, an online player, Holden was delighted to pick up a sponsorship deal with 888poker and he has been a fantastic ambassador until his recent decision to quit to focus on his philosophical studies.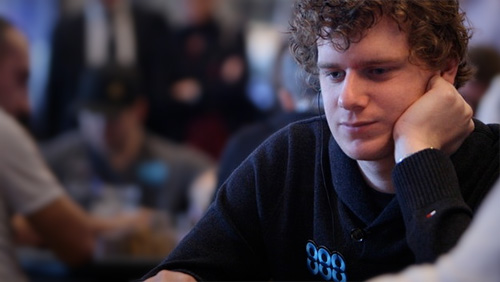 And that is why we have asked him onto the show today.
What does your life look like outside of poker?
"The majority of my social life has always been outside of poker. I like to play sports, socialize and travel around with my friends. I have a lot of friends in poker, but it was a job, and it was important to me to keep the interests and people that I knew before poker."
Who surrounds you?
"I have a group of friends that I have been close with since I was 16-17 years of age. We all went our separate ways, and went to separate universities, but we are still very close, which is very fortunate, and I hope that I have also picked up lots of friends through poker."
Did poker make it difficult to retain those old friendships?
"Being with my old friends is where I have always felt most comfortable, and we have always made an effort. One of the things I loved about playing poker full time was I never had to let my friends down because I could choose my own hours."
What is most important to you?
"I always try and learn from life and always learn from experiences and try to treat others how I would like to be treated myself. Just be conscientious and enjoy life and get the most out of it that I can."
Why philosophy?
"I have a scientific background, through my A levels, but more recently got into my reading, and I am very interested in ethics and politics. I hope I can really examine my own beliefs through a philosophy degree."
What is philosophy?
"It's a method of critical thinking. Attempting to be rational and break down an argument and really analyze the answers you might get as rationally as possible, with the hope of creating a discussion along the way."
What turned you onto it?
"I think it started with an interest in ethics, and basically what's wrong in the world. There a lot of complex issues that come up in our own democratic system that can unfortunately be swept away by the competitive nature of our political views, which is why I am more turned onto philosophy to try and break down what's really important instead of what's practical in a certain situation. There is also a ton of history involved, which also interests me. I have a lot too learn."
Give me an example of an ethical matter that is important to you?
"I am very interested in the relationship between religion and society. Both historically and present time. It plays a large part in our decisions at the moment and both in our political proceeds as well. I am keen to analyze how extensive that influence should be and the ethics involved in it."
Do you want to change the world or are you just concerned about your own sphere of influence?
"I don't know about changing the world but I would like to contribute. I enjoy attempting to help other people. I would like to go into lecturing and teaching at some point in the future."
Was poker stemming your progression?
"Not at all really. As I touched on earlier the flexibility of the poker schedule allows you to do anything you want to. I was also very conscious about trying to build some sort of nest egg. We do have financial burdens, and a lot of pressure, especially graduating from university. So I have a lot to thank poker for and it has given me far more opportunities that problems."
You touched upon Philipp Gruissem and his involvement in the Effective Altruism movement in your blog.
"Yeah absolutely. I touched on that initially last summer and I set myself a few targets. For people who don't know, if you are in a moneymaking occupation, and you perhaps want to contribute more to society, you can use that as motivation and donate money. So I set myself a few targets and made a few donations. But ultimately, longer term, I wanted to be involved in something that contributed directly to other people."
What are you hoping the degree will provide you with?
"I have preliminary plans as I mentioned. I would like to go into research, writing, books and lecturing but that's a long way off at this point. If not, then a job working for a charity I believe in or a pressure group within politics that I hope can make some sort of a difference. I don't necessarily believe in long-term plans, as I don't think they are particularly helpful. Lots of short terms goals are more effective whilst keeping your eyes on the periphery."
If you want to listen to more of this interview then please click on the audio link above.