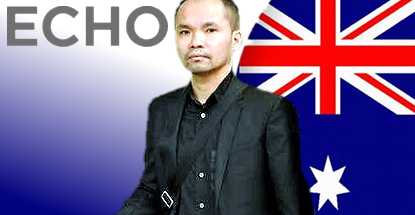 Struggling Australian casino operator Echo Entertainment offered investors a ray of hope in its fiscal Q3 trading update, reporting a 5.7% normalized revenue rise. Actual revenue, which doesn't attempt to smooth out the wild variables in the VIP gaming market, rose 13.2% in the three months ending March 31. New CEO Matt Bekier credited the improved figures to cost cutting and "some basic marketing initiatives." Bekier, who took the reins from former CEO John Redmond in February, said the results demonstrated that the pricey investments the company had made in upgrading its casino properties "can return something back to shareholders."
Meanwhile, one of Echo's high-rollers is finding it difficult to convince a judge he's not a flight risk. Vietnamese-born Pete Tan Hoang (pictured) was arrested in 2012 at Crown Melbourne casino carrying A$1.5m in cash that police claim are the proceeds of crime. In the last five years, Hoang is said to have wagered over $90m at Australian casinos, including Echo's The Star in Sydney. Depending on which court expert you listen to, Hoang either won or lost $8m at the casinos over the same span.
Yet Hoang has no record of ever holding a job and didn't file a single tax return over the past 12 years. Hoang received over $50k in government benefits between 2001 and 2007 and Hoang also won TattsLotto twice in 2013, collecting over $600k. The Herald Sun quoted Hoang's attorney David Grace telling Melbourne Magistrates' Court that his client "is a gambler and that's what he does and that's how he survives."
The 36-year-old Hoang came to Australia as a refugee in the late 1990s and now wants to travel to Vietnam to visit relatives. But prosecutors argued against the return of Hoang's passport, saying Hoang had no job or property tying him to Australia and thus wasn't likely to return to face charges related to his mysterious cash sources. Grace countered that Hoang left Vietnam for a reason and wouldn't go back simply to avoid what would likely be less than a year in prison if convicted.
Magistrate Suzanne Cameron sided with prosecutors, rejecting an offer by a citizen willing to put up her home to guarantee Hoang's return. Cameron noted the apparently limitless funds at Hoang's disposal and thus the potential loss of the $400k home would be a drop in Hoang's bucket. Hoang faces a committal hearing in June.
In 2013, The Star was called on the carpet for having accepted over $4m in deposits from a high-roller with a similar lack of verifiable resources. Despite declaring annual income of $124, federal police claimed that Li Ming Hu had transferred $11m between his bank accounts and those of a Hong Kong company over a period of two months. Like Hoang, Li claimed to have won big on the lottery.