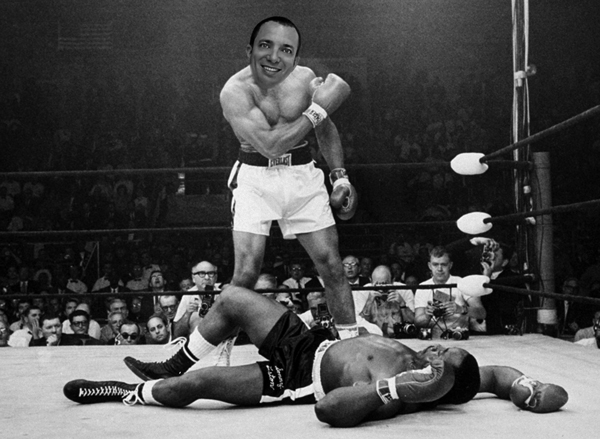 The long-awaited debate between Las Vegas Sands Corporation's Vice President of Government Affairs Andy Abboud and Caesars Interactive Entertainment CEO Mitch Garber went down on this Wednesday during the opening session of iGaming North America. On stage at Planet Hollywood before an audience of 500, the two faced off for 45 minutes in a discussion moderated by former World Poker Tour CEO Steve Lipscomb. By all accounts, Garber won the debate handily, if not necessarily on his own strengths.
Abboud tripped over himself even more than he did when he testified before Congress. As Nolan Dalla reported, Abboud referred to the Poker Players Alliance's supporters as "all their creepy Twitter followers," admitted that he couldn't follow when experts explained to him the inner workings of the online poker sites he so opposes, and glossed over his company's pre-Black Friday partnership with PokerStars while saying Las Vegas Sands had always been consistent about opposing online poker. Those missteps alone didn't lose the debate for Abboud. While he was forced to hew to Sheldon Adelson's tired, moralistic, fear-mongering arguments, his opponent had to do no such thing.
"This is a fight between facts and money," Garber said, seemingly touting the fact that he had an answer for every objection that Abboud raised. When Abboud said polling shows Americans don't want online gaming, Garber replied that there's no groundswell of opposition, either. When Abboud argued that the numbers for online poker in legalized markets haven't been as large as predicted, Garber pointed out that online poker was well established in the past. And when Abboud questioned the technology to prevent underage and problem gamblers, Garber explained that technological controls in Caesars' online casinos are actually superior to those in its land-based operations.
The thing is, all of the arguments that Garber made are the same ones that online poker operators have been making since the time of the poker boom. The main difference today is that Garber doesn't have to share a microphone with them. Where Garber rang untrue was his agreement with Abboud the moment that the latter brought up the current legislative situation in California, as Marco Valerio reported from the debate. Alluding to recent reports that PokerStars is working to keep so-called "bad actor" clauses out of potential legislation, Abboud said "(i)t's not all well-suited, vetted and regulated companies that are trying to get into the business." Garber chimed in that he liked a lot of what Abboud said without referencing the time and money Caesars has expended on preventing PokerStars from gaining a foothold in the U.S. market.
It was fitting that the debate was moderated by Steve Lipscomb, the founder and former CEO of the World Poker Tour. "When the WPT started, we had 13 partners," Lipscomb said at one point. "They were all against online poker sites back then. They were also scared. But they slowly shifted. The cannibalization they feared did not take place." Not only did cannibalization not take place, but the tour spawned new $10,000 tournaments with each passing year. The online operators gave customers what they wanted and sent them to the WPT and its partners, filling up its casino hotel rooms and bringing action to the casino floor that couldn't have been coaxed there in the absence of a poker tournament. Beyond the impact on his company's partners, Lipscomb and the WPT saw first-hand the impact that online poker had. Their tour grew from viable television programming to a ratings champ that eventually had the clout to jump networks for a better deal, before the reality of the post-UIGEA market saw them have to shrink their schedule and accept a worse TV deal just a few years later.
When Mitch Garber says he says that California and other states should keep "bad actors" out, what he really means is that he wants the government to come in and topple the people who built the online gaming industry once and for all. In his mind, governments legalizing online poker should hand over the keys to the industry to Caesars simply because they existed before the Internet made online poker viable. He wants leaders in locales where markets have not even opened yet to forsake what's best for the customers who are supposed to be generating all that tax revenue, preventing them from accessing and choosing superior products. Plain and simple, Mitch Garber wants a marketplace empty of real competition. Anybody who's thinking about legalizing online poker as a revenue generator ought to think twice before listening to him – and maybe ask where all those persuasive talking points of his really came from.
(Disclosure: I write online tournament recaps as a freelancer for the PokerStars blog.)