Lee Davy explains his complete and utter ambivalence when it comes to honoring the very best performers in the poker industry.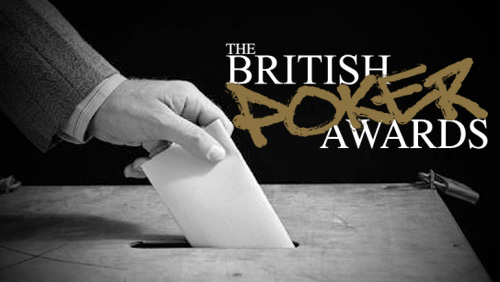 What is the most effective way of choosing the right people to be honored in our beautiful game?
A few weeks ago I was critical of the panel voting system that the Global Poker Index (GPI) used to select the winners at the European Poker Awards in Deauville.
I expressed a view that the net needed to be widened because I assumed that the accuracy of the choices would be improved with numbers. CEO of the GPI, Alex Dreyfus disagreed with me, and after looking at the winners of last night British Poker Awards I think I have to agree.
So I admit it.
When it comes to the nomination process for awards ceremonies I have no idea what the best approach is.
Take the award for Best Blogger as an example. Neil Channing was almost embarrassed to pick the award up because as he expressed in his own words, "I haven't written a fucking blog for about nine months."
Then you have the award for best live tournament player that went to Sam Trickett, who also expressed his surprise by stating, 'personally I don't think I deserve to win this award."
Sam does have a rather big point as his only tournament success of 2013 came with a win at the A$250,000 Challenge in the Aussie Millions. Over $2m in change is not to be scoffed at but it hardly represents a consistency that winners of this award must have to show.
With the controversial picks out of the way now on to the most deserving.
It was great to see Sam Grafton get enough votes to pick up the Personality award. I wrote only last week about how I felt he deserved it, but didn't think his popularity had yet reached such heights. It's nice to be proven wrong because I think Grafton has a significant role to play in the future of poker.
"I feel a bit nervous about this," Grafton told Rebecca Liggero after his win, "A poker award means I have just played well, but personality…does that now mean I have to be charming or something?"
Barny Boatman quite rightly picked up two awards for best performance and the lifetime achievement award, and it was nice to see Tony Kendall getting the nod for the best contribution to growing/promoting poker award.
"It's a wonderful game and it has given me a lot of pleasure over 15 years, but it's the first award I have ever won though." Said Kendall.
It was interesting to see people vote for Alex Millar to win the Player of the Year award, showing that the British allegiance is quite clearly on the side of the online poker stars.
"It's great to win two awards. I didn't even know I was up for the Player of the Year award. It's nice to win this one because often the tournament players get all the glory for picking up their huge scores, so it's really nice to be recognized for consistent results in the cash games." Said Millar.
The only disappointment for me was the omission of Matthew Ashton in the award winning categories. He was without doubt the outstanding British player of 2013 and it seems almost a travesty that either the GPI European Poker Awards or the British Poker Awards failed to recognize his achievements with an award.
But like I said…I have given up trying to figure these things out.
I know.
Perhaps, everyone should come together once a year, ditch the awards, and everyone just gets smashed.
That's a much better idea.
PS: For the full lowdown on the winners check out Rebecca Liggero's recap.