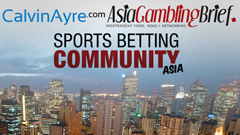 For the second time in less than a year, Sportsbetting Community Asia and Asia Gambling Brief are returning to the Philippines for its next Asia iGaming Social.
Dubbed the Manila Winter iGaming Social, the event is set to take place at one of Manila's hottest new night spots, 71 Gramercy, on Friday, February 28. Similar in vein to the first iGaming Social that was held in the Philippines last September by the same hosts, the Manila Winter iGaming Social will feature some of the biggest names representing some of the biggest sports betting companies in the region. The event is already being touted as a must-attend industry social where people can get up-close, talk to, and enjoy the company of some of the industry's sharpest and shrewdest minds.
Networking at these socials are highly encouraged and it's no different with the Manila Winter iGaming Social. Add to that the fact that Sportsbetting Community Asia and Asia Gambling Brief couldn't have picked a fancier and more scenic spot to hold this event – 71 Gramercy offers stunning views across the entirety of Metro Manila – and it's easy to understand why attending the Manila Winter iGaming Social has turned into a must-go-to event for anybody involved in the iGaming industries both in the Philippines and all across the Asian region.
Likewise, a handful of well-known companies involved in varying capacities in the industry have sponsored the latest social, including Ezugi, EveryMatrix, First Cagayan and Footballbet.com / Betmex.net.
The doors to the event open at 7 pm and lasts until the wee hours of the morning. In that span of time, revelry is expected to ensue and an organic networking session takes place among industry experts and pioneers. In the event that you haven't registered for the event yet, there's still enough time to get your name invited. All that needs to be done is to go to this dedicated website, register your attendance, and cross out the things you were supposed to be doing on the 28th.