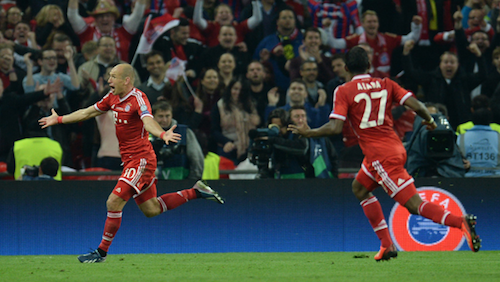 Talks of Barcelona's demise may have been exaggerated. Also, PSG's really good. Really, really good.
Those two bits have been the talking points after the first day of the Champions League Round of 16. While we expected PSG to simply "out-Zlatan" Bayer Leverkusen, Barcelona's resounding win over a highly-lauded Manchester City squad proves that nobody should be writing Barca's obituaries just yet.
Today, though, is another day, and with it comes a pair of new matches featuring the defending champs taking on a young squad looking to impress and a disappointing Italian team locking horns with the surprise of the Spanish La Liga.
Arsenal vs Bayern Munich
Bayern Munich's road to the Champions League title last year came so close to getting derailed by Arsenal last year. Today's game won't be so much of a rematch between the two teams as a determination on how far Arsenal have come since last year's disappointing loss. Bayern is unquestionably the class of the elite and its recent form certainly backs that assessment. When you only have two draws and 0 losses in 21 games this year while scoring 57 times, you're doing something pretty good, at least good enough to leave Arsenal manager Arsene Wenger calling you the "super favorites" of the Champions League.
That's the task Arsenal face in its daunting draw against the defending champions. Hardly surprising, too, that Bayern is the overwhelming favorites as the road team playing in London. That speaks volumes to the gap in class between both squads.
So does Arsenal have a chance? Sure, it does; the ball is round, after all. But a chance to win doesn't usually translate to actually winning the game, and while it would make for the upset of year to see the Gunners beat Munich in front of its home crowd, the chances that it actually does so is pretty slim.
AC Milan vs Atletico Madrid
Taken at sheer face value, this game has the makings of an intriguing clash between two world-class teams. But really, that's as far as it goes, at least for an AC Milan squad that bears little resemblance to the team that was once a staple in these tournaments. Milan has been pitiful this year, mired in mediocrity that has seen them barely struggle to keep pack in the middle of the Serie A table.
On the flip side, Atletico Madrid has been the revelation in football this year. After losing superstar Radamel Falcao to Monaco in the transfer season, Madrid have regrouped quite nicely led by the irrepressible Diego Costa and the ageless David Villa, even taking its time sitting atop the Spanish La Liga table in recent weeks.
With such a contrasting a trend for both teams, it'll be hard to see AC Milan doing any damage against a team that's just superior to them in all facets. The first four Champions League matches could very well see all four road teams scoring huge wins and that includes an Atletico side that'll validate its hype with a resounding victory in Milan.