Online Texas Hold'em is the most popular form of poker in the world. It doesn't matter if you are playing cash games, sit n go's (SNG) or multi-table tournaments (MTT), there will be more people playing this format of poker than any other by a country mile.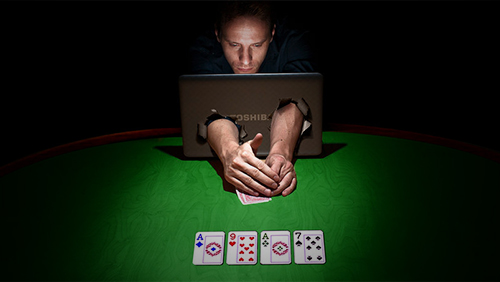 Two hole cards, five community cards, a few opponents and the ability to put it all on the line.
Magic.
When you first start playing online Texas Hold'em you think it's difficult, then you start thinking it's easy, then you see the depth and it becomes more difficult again. Finally, your thought process becomes so convulated that it creates enough stress to give you a coronary.
So how do you become better than anyone else? How do you reduce your chances of a coronary, and instead turn your heart into a lover of the game?
You train harder than anyone else.
The online Texas Hold'em beginner's journey often starts around the kitchen table. A few beers with your mates, a bowl full of Cheesy Wotsits sitting proudly next to the flop, and off you go. You learn about the game by making mistakes, watching the better players at the table and asking plenty of questions.
This method of learning never stops, but at the beginning you need so much more. The next stage of your development takes you to the library in search of the perfect poker book.
I have read a lot of poker books, and the one series that I would recommend to a beginner learning online Texas Hold'em is The Harrington on Hold'em series by Dan Harrington. You can find three volumes of both MTT and cash game strategy, and although there is very little in terms of online play, you will learn the foundations of the game that will become key to your success.
When you have learned the basics, and optimal game theory, then it's time to dive into Easy Game by Andrew Seidman, who will bring your cash game theory right up to the modern times.
Three more must read poker books are The Mental Game of Poker series by Jared Tendler and Elements of Poker by Tommy Angelo. These books delve into the psychological side of the game, an area I believe to be more important that technical ability, but you need to get a few thousand hands under your belt before you start feasting on these bad boys.
Your next stage of evolution is to find an online training site. Back when I was learning the game there were a whole host of top professional's who were affiliated with training sites, but they were mainly successful live tournament or cash game players.
It was obvious to me that I needed to learn how to play online Texas Hold'em from players who excelled at online Texas Hold'em and a quick Google search led me to the name of Phil Galfond.
At the time Phil Galfond was the main man at Bluefire Poker before they parted ways, leaving Galfond to focus on the current Daddy on the block RunItOnce.
Bluefire Poker was a revelation to my game. I improved dramatically and fell in love with videos from Niman 'Samoleus' Kenkre, Martin 'DrGiggy' Fournier and Jason 'PBJaxx' Senti.
They were a great site because not only did they release regular high quality content, but they were extremely interactive. You could ask them questions in the forum and basically hold conversations with these guys. It really did feel like one big family and I loved my time as a member there.
Finding a site where you feel like your personal game matters to them is important. I got this at Bluefire Poker and Samoleus and DrGiggy in particularly used to put an educational wing over my shoulder.
The next level in your journey is to find some one-on-one coaching and this really does take your game to the next level. If you want to find a coach then you can trawl through the 2+2 forum, but I highly suggest you take the relationships that you forged during your online training membership and ask those coaches for more of their personal time.
I remember asking DrGiggy to give me some coaching, and although he didn't have the time, he did hook me up with one of his personal friends Xavier and my one-to-one tuition had begun.
I loved working with Xavier and felt my game improved immensely, but I learned that I needed a different type of coach. This is an important concept to understand. Not all coaches and players are compatible, and so it's a little like dating. You keep playing the field until you find a great match.
I found that match when Bluefire Poker hired Alan Jackson. He was an extremely analytical coach and I was delighted when he took me on as a student. We started a training series on Bluefire Poker called 'From Amateur to Pro' and it was one of the most successful series on the site.
I won more money under the guidance of Jackson then at any other time in my poker career. Then I realized that I had found poker at the wrong time in my life. I was a married man in my 30s with a child. I needed a steady paycheck and so I wrote more about poker and played less.
It was during my writing that I stumbled upon the final piece of the Online Texas Hold'em training jigsaw. The one piece of advice that will send your game Supernova.
Making friends with the best players in the world.
Nothing can compete with having the opportunity to tap directly into the mind of a top professional poker player on a regular basis. This takes the professional one-to-one coaching relationship to a whole new level. These are your friends. People you respect, hang out with, share the fun times, and offer shoulders to cry on.
Not all of the best players make the best coaches, but if you are self reliant enough, and have a good strong work ethic, then listening to these players talking about strategy is priceless.
So there you have it.
A quick guide to learning Online Texas Hold'em from Cheesy Wotsits and kichen tables to top professional poker players showing you how to print money.
Good luck.