Paddy Power have turned their irritable attention to the Premier League Champions after erecting a waxwork of Sir Alex Ferguson outside the front door of Old Trafford, in a stunt that will have fans in stitches.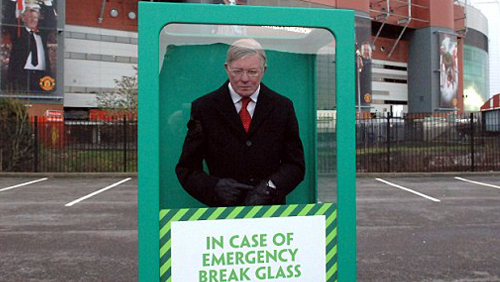 Did you know that laughter relaxes the whole body; boosts the immune system; triggers the release of endorphins that help promote a sense of wellbeing; and lessens the likelihood that you will suffer from a heart attack.
So with that in mind I think it's imperative that we all Google 'PaddyPower' as soon as we wake up each morning, because for the past few years they have been BANG on form when it comes to the production of laughing gas.
Their recent stunt is aimed at the demise of the once mighty Manchester United. The Red Army that dominated Premier League football under the tutelage of Sir Alex Ferguson, and who are finding it difficult to beat a team of blind men after taking the whistle out of the ball.
United suffered their seventh defeat of the season after their 3-1 mauling at Chelsea at the weekend. The loss leaves them in seventh place, a clear 14-points behind the league leaders Arsenal, and six points behind fourth place Liverpool, who currently sit in the Champions League placing's.
With United fans wondering who on earth was going to come to United's aid, Paddy Power decided to help out by erecting a glass box, containing a waxwork of Sir Alex Ferguson with the words 'In case of emergency break glass" emblazoned on the front.
The Irish funsters Global Marketing Director, Christian Woolfenden, recently told The Drum that he was disappointed if his marketing stunts didn't receive any complaints.
Given the national hatred of the men from Manchester, one can expect Woolfenden to be disappointed with this one.
When it Rains…
One of the first tasks that David Moyes was faced with when he arrived at Old Trafford was stopping Wayne Rooney from driving his Porsche Carrera into the Chelsea training ground.
For a while it seemed like his former protégé liked what he heard from his padawan; but that was before United turned into a team with more wobble than a bowl of jelly.
So why would he stay now?
According to the Chelsea coach Jose Mourinho, Rooney will leave Man Utd in the summer, and will be sold to an overseas rival. He is still refusing to sign a new deal and has told the club that he will not make a decision until after the World Cup.
Rooney is currently sidelined with a groin in jury and will be missing once again as United attempt to overturn a Capital One Cup semi-final first leg defeat against Sunderland.