Top poker ranking systems have decided to unite to create a more rounded view at professional poker players results, as the Global Poker Index (GPI), Hendon Mob (HM) and PocketFives agree to share online and live tournament results for the first time ever.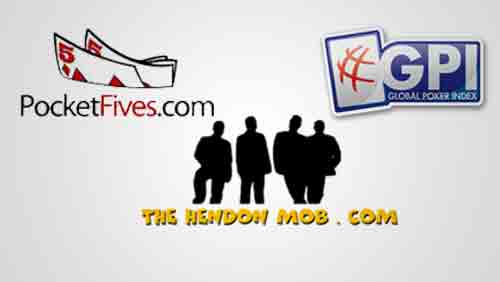 Who is the greatest pound-for-pound poker player in the world?
People will say that variance dictates the fact that we shall never get an answer to that question, but I say bah-humbug to that nonsense as the Hendon Mob (HM), Global Poker Index (GPI) and PocketFives join forces to offer a one stop shop for live and online tournament results.
PocketFives Co-Founder Cal Spears told Pokerfuse, "In the early days of PocketFives, it was two separate worlds: there were live players and there were online players, and neither was a big fan of the other. Now, with the two worlds intermingled, we're very excited to be working with GPI and Hendon Mob to make the complete picture of player results more accessible."
The amalgamation of these three entities would never have materialized if not for the enigmatic charm, knowledge and hard work of the GPI CEO Alexander Dreyfus.
The founder of Chilipoker acquired the GPI from Pinnacle Entertainment after the Federated Sports + Gaming (FS+G) filed for bankruptcy in March 2012, and at the time Dreyfus said, "The GPI is the best poker ranking system in the world, and we plan to make it even better."
Dreyfus quickly went about his business and the GPI Fantasy Poker Manager game was born, before he strengthened the brand even further by acquiring the The Hendon Mob brand and database earlier this year.
"Our common goal is to promote poker, and offering these results to our respective audiences will be a huge advantage for the future. This exclusive agreement will definitively help each company be stronger and bring more innovation into poker." Said Dreyfus
Since Dreyfus took over the reigns of the GPI it has quickly become recognized as the elite poker ranking system used by both the players and members of the media.
It will be interesting to see how this develops, particularly given the fact, that not all online aliases like to have their true identity revealed, especially when it comes to the particularly unnerving mention of the tax man.
Comments