After four years on the international live tournament circuit, Manig Loeser, is set to become the latest German player to make some pretty big waves. The global Poker Index (GPI) has him pegged in eighth place in the German live tournament rankings, and that is no mean feat considering he is rubbing shoulder with the likes of Marvin Rettenmaier, Ole Schemion, Martin Finger, Philip Gruissem, Tobias Reinkemeier and Igor Kurganov.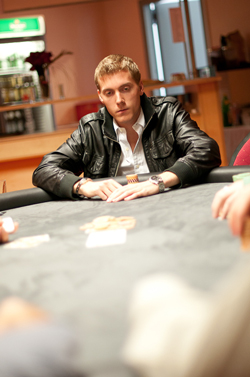 In the summer, Loeser had a great World Series of Poker (WSOP) and he has continued that momentum in the first big post WSOP tournament.
"The series was really good because I chopped the $1.5k six-max and also had a deep run in the main event. It was pretty tough not getting the bracelet, as they are so hard to get, and so when you get heads up you really need to win it, but after a few days I was really happy about the money I had won."
Loeser is not alone in Cyprus. He arrived with his girlfriend Jamila Von Perger, and she also played in the event, where she ran deep before being eliminated just prior to the money after being three-outered with her pocket kings.
"I am really happy that she is crushing so much. She is getting really good so that's great. We talk a lot about hands together and it's much more fun to have company when you are on the tour together."
Loeser lives in London where he shares a house with a couple of online grinders, but he does have plans to move to Vienna in the coming months. Out of interest I ask Loeser what his opinion is with regards to the pros that like to register as late as the sixth level.
"I'm really not a fan of that. I understand if you have had a late night. But when you get so many gifts in the first few levels I really don't like turning up late. I think some players are just playing for the title, are just trying to get a big stack and don't care of they lose some EV in the first levels – but its not my style."
Loeser is friendly with all of the German players and that includes 'The Reinkemier Group' as he dubs them; but does he have aspirations to one play in the six-figure buy-in tournaments?
"I wouldn't say I aspire to be apart of it. I enjoy playing the main events. I don't see that much value in the $100k events because you have to sell so much action to play and that's not for me right now."
As for the future, Loeser prefer to focus on the present.
"Life cannot get much better than it is right now. I travel the world playing poker and that will do for me."
Who can argue with that?