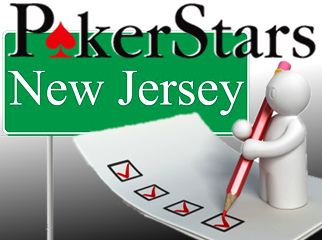 Online poker colossus PokerStars is querying its former players in New Jersey on a number of issues near and dear to the company's heart. Among the 15 questions Stars would like answers on are how likely players would be to play in New Jersey's online regulated market when it launches in November (although, curiously, the question is posed as a hypothetical, as in "if it's licensed and regulated in New Jersey," even though that ship sailed nearly six months ago).
A far more logical hypothetical posed is whether Stars' former Jersey boys would be willing to return to the mothership, assuming the New Jersey Division of Gaming Enforcement approves Stars' bid for a Garden State gaming license. (Stars inked a prospective online partnership with Atlantic City's Resorts Casino Hotel earlier this month but everything hinges on Stars' getting a passing grade from the DGE.)
The questionnaire asks the exact same question regarding Stars' offshoot Full Tilt Poker. Combined with FTP's recent revelation that it plans to expand its offering by including 'casino-style games' while Stars will remain poker-only, it appears more and more that FTP will be the brand Stars intends to use in New Jersey's online gambling market (in which online casino products will be permitted).
Among the other notables in PokerStars' questionnaire is the list of online poker brands that Jersey players might be aware of and/or played with in the past. In addition to Stars and FTP, the survey cites the other Black Friday indictees Absolute Poker and Ultimate Bet, plus 888/Pacific, Bodog, Doyles Room, PartyPoker and Nevada-licensed Ultimate Poker. It must really stick in Jennifer Larson's craw that while Doyle's Room hasn't operated under that name for nearly two years, it still warranted a mention in Stars' survey, whereas Lock Poker was either considered irrelevant or Stars' braintrust figured they already knew players' opinion of the poker site where 'withdrawal' is a dirty word.
WILL STARS WIN A NEW JERSEY LICENSE?
DGE Director David Rebuck (pictured right) recently sat down with Global Gaming Business' Roger Gros to discuss Jersey's online gambling market, which has set itself a 'go live' date for mid-November. Regardless of whether New Jersey actually hits that target, Rebuck said he's "very confident" that "at least three major operators" would be "ready to go" by that date.
Rebuck was asked about the New Jersey legislation's absence of a 'bad actors' clause and how that related to PokerStars' chances of being among those companies ready to go this November. Rebuck said his regulators were "dealing with many companies that have been involved with online gaming throughout the world. There's a lot of skeletons in closets throughout this industry and it's up to us to find them and deal with them as we would if [the companies] were applying for a land-based [license]." The lack of a bad actors clause "doesn't give [operators] a carte blanche ability to come in free and clear; we have to look at them each individually and we will be doing that."
Gros attempted to draw Rebuck out on the issue of separating supposedly 'tainted' individuals – like, say, Stars' chairman Isai Scheinberg – from the companies with which they're connected, which prompted Rebuck to say US gaming history contained "all sorts of models for taking out those who were seen to be the 'bad actors' and having the company reorganize itself or restructure itself to allow for the concerns that one would have about the management or oversight for the 'bad actor' or bad practices to be eliminated … The companies that are coming into the US, they know this and they're preparing. Or they should be preparing, and if they don't, then they're going to have to adapt."
LOOKING BEYOND NEW JERSEY"S BORDERS
Regarding interstate compacts, Rebuck said that because two of the three markets (New Jersey, Delaware) that have legalized online gambling were as yet not operational, it was "premature" to consider the possibility of compacts with Nevada. Rebuck said he was "not even thinking about it" until New Jersey's system is up and running.
As for whether New Jersey's legislation allowed the state to enter into liquidity-sharing agreements with jurisdictions outside the US, Rebuck said state law didn't provide him the ability to "enter into treaties" and so therefore "we'll be very cautious in that regard" until future conversations with the US Department of Justice provided some clarity. But Rebuck suggested that if international liquidity agreements are struck, they would likely begin with Canadian provinces, which were "moving aggressively in this area." Rebuck noted that there were some "very strong regulatory models in Canada that you can feel comfortable with," but cautioned that "only time will tell."
Comments