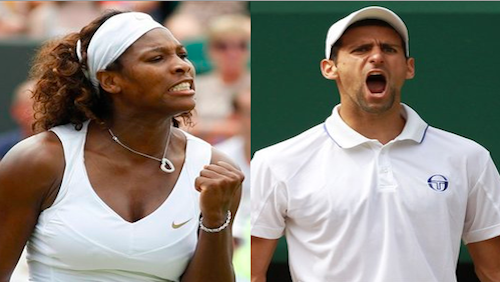 The third tennis grand slam of the year, Wimbledon, has just opened play, and if the tournament has shown us anything over the past few years, it's that you can pretty much expect anything to happen, especially on the Men's side. Last year, in particular, saw quite a dramatic final round between Roger Federer and local hero Andy Murray. King Rodg eventually beat Murray to win a record-tying seventh Wimbledon title but not before getting a game challenge from the crowd favorite.
Over on the women's side, Serena Williams took the title last year, defeating Agnieszka Radwanska in three sets, and securing her second Wimbledon title.
This year, the usual cast of favorites are back on the top of the list of oddsmakers with both world number 1 players, Novak Djokovic, and Williams, leading the way in their respective tournaments.
Despite Federer's status as thee defending champion, the Swiss all-timer isn't even the favorite as he tries to become the winningest player in tournament history. The favorite tag has been placed on Djokovic with oddsmakers setting him at 5/6 odds win the tournament. In somewhat of another surprise, Murray is the second favorite at 7/2 odds, followed by Rafael Nadal at 4/1 odds. Only then do we get to Roger, who has been slotted at 8/1 odds to defend his title. After the Big Four, the lines drop significantly with Jo-Wilfried Tsonga the only one breaking into the sub 20/1 line. Only three other players have two-digit odds with Juan Manuel del Potro slotted at 33/1, followed by Tomas Berdych at 40/1, and David Ferrer at 50/1.
Over on the women's side, world number 1 and five-time Wimbledon winner Serena Williams is the overwhelming favorite to win her sixth Grand Slam at the All England Club at just 2/5 odds. World number 3 Maria Sharapova looks like the only other women's player that oddsmakers have given a chance to unseat Williams, getting 5/1 odds. From there, it's world number 2 Victoria Azarenka with a surprisingly long 10/1 shot to win her first Wimbledon title. She's made it to the semi-finals the past two years and if there was a time for her to breakthrough and make it to the finals, this could be the year. Sure, there's that matter of actually getting there, but at 10/1 to win the title, it's still a pretty interesting proposition.
After the top three women's players in the world, it becomes a choice of longshots. Leading the way is Agnieszka Radwanska and Li Na, both of whom are 40/1 to win, followed by Angelique Kerber, Sloane Stephens, Sabine Lisicki, and former world number 1 Caroline Wozniacki, all four of whom have been priced at 80/1 to win Wimbledon.