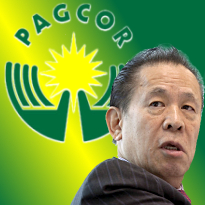 Kazuo Okada just can't escape the headlines for the wrong reasons. Whether its his highly publicized feud with Steve Wynn or bribery allegations in the Philippines, the Japanese billionaire really can't catch a break.
Unfortunately, things could up getting worse for Okada if those aforementioned bribery allegations are proved to have happened.
According to the Business Daily, the Philippine Amusement and Gaming Corporation (Pagcor) has already informed Tiger Resorts, Leisure and Entertainment Inc., an Okada-owned company that's behind the development of one of the four integrated resort and casinos in Entertainment City, that the government-owned agency will "think seriously" of stripping the company's casino license in the Philippines.
That much was made clear by Pagcor vice president Francis Hernando who told the Business Daily that "If somebody proved that some bribes were paid in the past, then we would have to think very seriously about the continuation of the license. We've also told Tiger [Resorts] that."
Those statements aren't exactly a vote of confidence coming from Pagcor, which leads to the belief that it's serious about its threat to Tiger Resorts that if something erroneous did happen on the way to Tiger securing that casino license, Pagcor won't hesitate to take it back.
Late last year, a Reuters report linked Okada's Nevada-incorporated US subsidiary Aruze USA with former Pagcor associate Rodolfo Soriano. In its report, Reuters claimed that Aruze USA made payments to Soriano in exchange for receiving one of the four casino licenses in Entertainment City, as well as numerous concessions, including exemptions from corporate tax and regulations requiring 60% Philippine ownership stake in the casino project.
In the event this happens, don't be surprised if there ends up being a strong bidding war from operators all over the world to acquire that one casino license. After all, Entertainment City is quickly shaping up to be a serious player in the global gambling scene. Already, Bloomberry Resorts' Solaire Manila has posted strong returns after only 15 days in operation back in March. Combine that with the addition of Belle Grande and Resorts World Bayshore in the coming years and that one casino license that will now be available if Pagcor does strip Okada of it could become a pretty valuable commodity for casino operators in the world.
Comments