Jason Mercier came into 2013 on the back of his first losing year in poker, but he is bouncing back at one of the toughest tournaments in the world: The European Poker Tour Grand Final in Monte Carlo.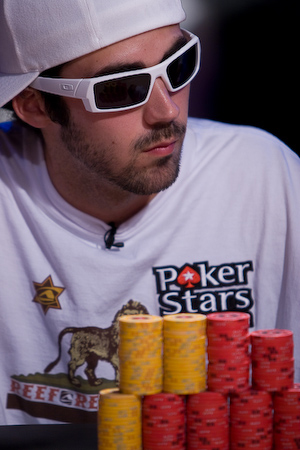 If you look at the live tournament results of Jason Mercier they are quite phenomenal. He won $2.7m in his first year on the circuit back in 2008, and then racked up seven figure scores in the next three seasons. Then in 2012 he took a pay cut and earned $523,000; still a decent year though right…wrong.
"I can honestly say that 2012 was pretty brutal for me. It was my first losing year as a professional poker player." Jason Mercier revealed in his PokerStars blog, "It started when I went to LA in February, after a very good January. I made one final table at the PCA and did very, very well in the cash games at the Aussie Millions. That success came on top of winning the $100k high roller event at the Bellagio in December. Everything was going great.
But after I got to LA in February I just couldn't win. At one point, playing mostly 600-1200 mixed games, I lost five straight cash game sessions for a ton of money each time. By the time I left LA I had lost close to half a million dollars."
You could forgive Mercier from feeling pretty invincible as he approached 2012. So how did such a loss affect his game?
"When you feel like you can't win a hand and lose so much in such a short period of time, you start to question whether or not you even know what you're doing at the table. That can be very dangerous, to both your bottom line and your confidence. You really have to grit your teeth and stick to your game."
The most successful people in the world are so because they set time specific goals and then attack them with action after action after action.
"My goal for the year is to make a million dollars. Not to have a million dollars in Hendon Mob entries; to have a million more dollars at the end of the year than I had at the beginning."
He has gritted those teeth, stuck to his game and ploughed on with a renewed sense of optimism. The net result…he is the chip leader on the final table of one of the toughest tournaments you will see played out this year – the €100,000 Super High Roller at the European Poker Tour (EPT) Grand Final in Monte Carlo. This on the back of a victory in the €2,000 Open Face Chinese event and a seventh place finish at the €10,600 Main Event. The homeless beard has gone, the smile is back, the races are going his way and he is bashing people up for fun. There are just six people standing in his way of achieving his goal as early as May and I don't fancy their chances.
Final Table Chip Counts
Jason Mercier – 4,165,000
Vladimir Troyanovsky – 2,150,000
Sorel Mizzi – 2,140,000
Max Altergott – 2,110,000
Timothy Adams – 830,000
Scott Seiver – 625,000
Mike Watson – 480,000
Comments