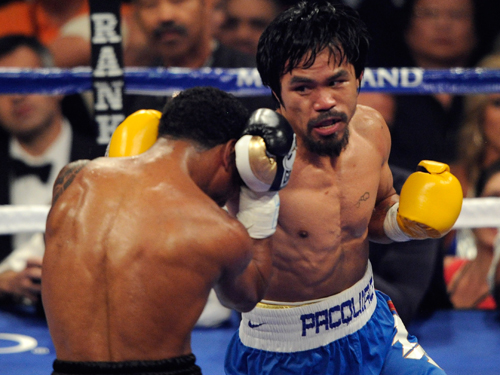 Manny Pacquiao is returning to the boxing ring this November against either Brandon Rios or Mike Alvarado. The only difference is it won't be in the familiar confines of the MGM Grand in Las Vegas. Instead, Pacman's return to boxing after suffering a sixth round knockout at the hands of Juan Manual Marquez is taking place half a world away from Las Vegas, Nevada.
It's happening in Macau.
Don't sound too surprised. In fact, it's been the worst kept secret in boxing for the better part of a few months. Pacman's done fighting in the US, and after what happened in his last fight there, can you blame him? From here on out, he's taking his fights to the East and at least for his next fight, to the city that has become widely considered as Vegas 2.0.
Pacquiao's preference to fight outside the US due to tax reasons is common knowledge at this point. Holding it in Macau won't force him to fork over a third of his fight purse to Uncle Sam. For somebody who spends as much money as he does, that's a pretty big deal, especially when you have an entourage that – unbelievably  – still continues to grow by the day.
Then there's the whole gambling and entertainment angle, two important side attractions to any prize fight that attracts thousands of fans. That's precisely why Macau's an interesting choice. The gambling town has already usurped Las Vegas as the number one gambling destination in the world. But for all the pomp and adulation that's being thrown its way, there's still one thing that Las Vegas can lay claim to being superior to Macau: holding prize fights.
A Pacquiao fight in Macau changes that because despite suffering two straight losses in his last two fights, he remains a huge draw in the sport and attracting casual fans to come and pay to watch the fight shouldn't be a problem wherever he holds it next. Whether it's Macau, Singapore, or the moon, people will still come to see a Manny Pacquiao fight. And they'll come to gamble, too, particularly the VIPs and high rollers who figure to do nothing on fight weekend except gamble, eat, gamble, eat, gamble, watch the fight, and then gamble some more.
And then there's geography. It's no secret that Macau's close proximity to Pacquiao's native country, the Philippines, is one of the biggest factors in the fight being held there. Filipinos going to Macau is like Mexicans going to Las Vegas. It doesn't cost a lot to buy a ticket online, make hotel reservations, and then score some seats for the fight. You can pretty much take it to the bank that at least half of the crown for that fight will be Filipinos, a big percentage of whom made the travel to see Pacquiao in what could arguably one of the last three fights of his career.
Consider it a farewell tour of sorts, and don't be surprised if his last fight is held in the Philippines.
But for now, Macau makes the most sense. Taxes aren't that steep. You attract a treasure trove of rich Chinese high rollers who's idea of a perfect weekend is to gamble to their pocket's content and watch a mega fight featuring one of boxing's biggest stars. And you give Filipinos a cheaper and far easier access to come see the fight live and watch their hero in his last few fights before hanging up those gloves.
There's a ton of money to be made in this fight and when you throw gambling and a Manny Pacquiao fight into the equation, you can expect Macau to be up to full capacity this November.