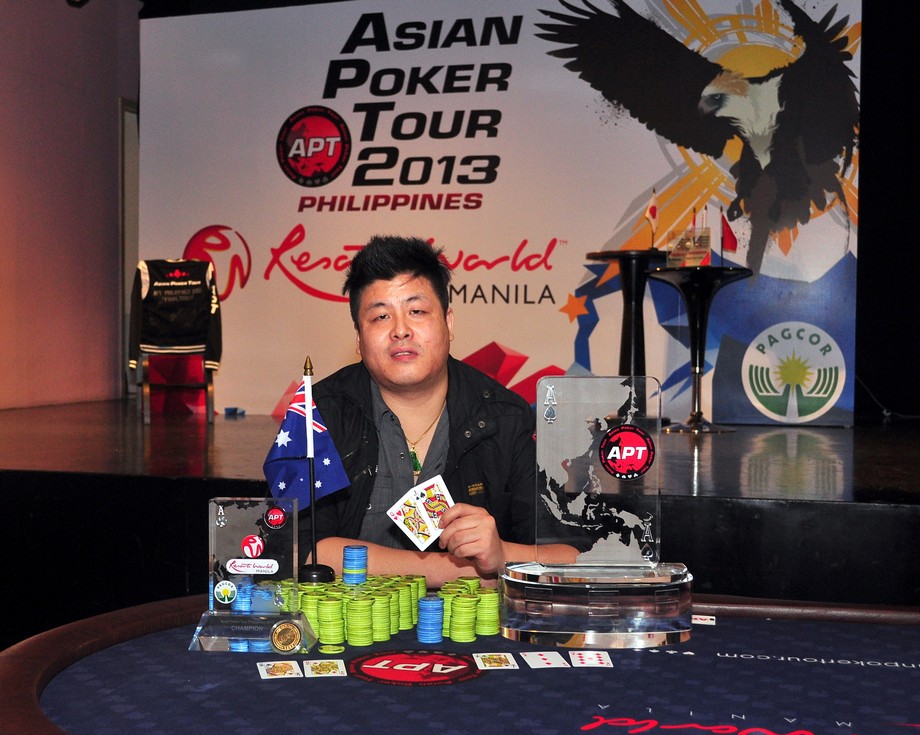 Australia's Khac Trung Tran may have a Vietnamese name, he is Vietnamese after all, but his poker game certainly speaks all languages. After four days of intense poker action that saw an impressive 205 players competing in the Main Event, it was Tran who came out on top, taking home the title of APT Philippines 2013 Main Event champion and equally important, the $124,000 first place money that came with it.
In taking down the tournament, Tran had to rely on a steady mix of consistent aggression throughout the four-day tournament. Tran was barely getting by heading into Day 2 with an average 56,525 in chips but sensing that the time was ripe to become more aggressive, the Australian did just that, picking up the pace to move into fourth place after two days with 257,500 in chips. Day 3 saw more of the same as Tran continued with his consistent play, placing fifth heading into the Final Table.
That's when Tran ultimately stepped up his play, taking down other finalists that included Final Table chipleader Nam Le, who finished in third place despite the gathered crowd firmly entrenched in his corner. In the end, it was Tran and fellow Vietnamese-born Australian Thang Truong who duked it out in the heads-up challenge to decide the winner of the Main Event.
After two hours of heads-up play, Tran finally caught Truong with a dramatic final hand that saw the former hit on the flop despite being behind on the cards. Tran's JsQh was behind Truong's Ac6d but when the flop turned 3c9dJd, it was all she wrote for Truong who had no help on the Qd turn and Qc river, giving Tran a full house, the win, the title, and the first place money.
Tran's coronation as APT Philippines 2013 Main Event champion is certainly well earned and well deserved. Big congratulations to Khac Trung Tran for taking down the APT Philippines 2013 Main Event title!
Comments