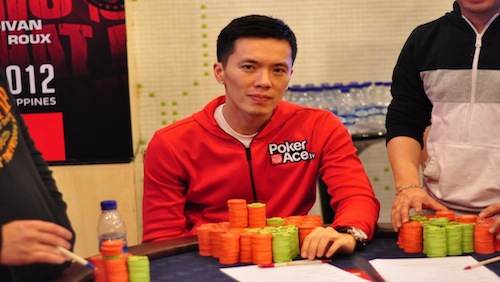 PokeAce poker pro Nam Le has been a fixture in the Asian Poker Tour Philippines for the past few years and while he's had some pretty impressive showings, he hasn't been in a position to take down the APT Philippines Main Event.
But that could all change this year because Le is in a pretty comfortable position, entering the Final Table of the Main Event as the chip leader with 1,160,000 in chips to his name. In the process of stacking up, Le put forth a virtuoso performance in Day 3 of the tournament, raking in win after win and eliminating some pretty stellar players along the way. The list of notable names to fall to Le include reigning APT Player of the Year Sam Ravazi, online pro Daniel Kelly, and Day 2 chip leader Andrew Gaw.
It was the kind of performance that has made Le one of the premier poker players in the circuit and he showed why he's of such caliber in the tournament. Mixing ruthless aggression with timely calls and instinctive plays, Le secured the top spot in the Final Table of the tournament, drawing closer and closer to that APT Main Event title that has eluded him for years.
In order for him to accomplish that goal, he's still got to go through an impressive field of pros that include China's Miller Zhang, Japan's Sekiya Yosuke, and local player Anthony Gabitan. Miller sits in second place not too far away from Le with 924,000 in chips. From there, it's Yosuke in third place with 675,000 in chips, followed by three Australians in Thang Truong sitting in 4th (467,000), Khac Trung Tran in 5th (332,000), and Tam Truong in 6th (202,000). Canada's Homan Housiar sits in 7th with 177,000 in chips with the Philippines' Anthony Gabitan sitting in 8th (163,000) as the short stack of the tournament.
Comments